The weekly schedule of the NFL means that players are constantly cramming information about upcoming opponents, playing games and then going back to cramming about a different team. Because of that limited preparation time, it is important that players have a strong base of knowledge to go off, so that the week of studying can focus on specific details of how to beat the opponent and not broad concepts of what they as a team want to do.
Recently, ChicagoBears.com caught up with offensive coordinator Aaron Kromer in his office as he was breaking down film to discuss game planning, how he as a coach assists players in studying for upcoming games and the value of running plays an opponent doesn't expect.
What goes in to creating an offensive game plan? Is it impacted by the defense you are facing or are you as a unit kind of set in your ways?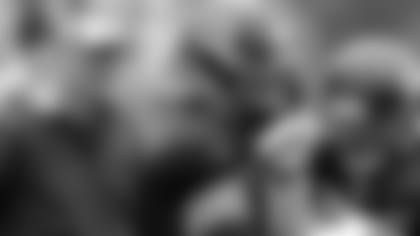 Aaron Kromer runs Matt Slauson and Kyle Long through a drill at practice.
Offenses are set. You have an overall plan that you set in the beginning and that's a combination of schemes and the use of the talent that you have. So you try to gauge it toward the players that you have to accentuate what they do best. But at the same time, you have schemes that beat different coverages or different fronts that would be best against those defenses you are going to see. Obviously that will be a broad range throughout the season, so when you go to game plan then, you have your basis that you've built in training camp or the offseason, and then you pick and choose the type of play depending on what the defense is doing. So most of it is built in, some new things are added each week or new guys do it – we'll change who is doing what and where – but it's general schemes you have been working on throughout the year.
How much of that plan is subject to change on game day, depending on matchups or developments you may not have expected?
Game day adjustments are built in usually throughout the week. So things may be working or not working (during games), there's a lot of reasons for that. One would be a technique that someone is using that's not fitting or plays to beat certain coverages and the opponent isn't playing those coverages. If they change up on you from what they've shown on tape, then it's just working your way into the plays that you have in the game plan and getting to the ones that are better suited to the ones they are doing, that they didn't show on tape.
Do you approach play calling as trying to catch the opponent off guard, or is it more about doing what you do best?
Most of it is the plan that you had, and off of that plan there are slight adjustments to be made, or rather, within the plan. And so you've work on almost everything you've done in practice in the games.
What does a versatile player like Kyle Long do for an offense?
The person or player that can do more things is harder to defend. If a player is only good at certain things, then it's easier for a defense to adjust their things that they are doing to only stop the limited amount of things that offensive player does. So anybody that has versatility has a great benefit to an offense.
As an offense, did you set goals to improve upon what you did in 2013, when the unit set a franchise record for yards gained?
Yeah, every year is a new team, even though a lot of the players are the same. You can't live in the past whether it'sbad or good. Once again, you are doing everything you can to accentuate the talents of your players within the schemes that fit against the defense you are playing.
The Bears ran a gadget play – a flea-flicker – in Week 1. Though it didn't work, from a coach's view, what value do those types of plays have for an offense? Are those plays worked on all year long?
Yes, there are plays we have been working on all year. Some of them are major gadgets, like the flea-flicker, and some of them are small adjustments to plays that we have and would be considered somewhat of a trick play. And trick play really is taking advantage of what the defense is doing.
It has to fit, within the realm of our solid plan, of why or when it would work. Due to the game planning that you have studied defenses to see how they work. You only dial that up when you think it has a chance and sometimes they're good, sometimes they're not.
Do players and coaches find those types of plays as exciting as fans do?
The excitement comes when they work. And sometimes it is what you are looking for, it just didn't work out the way you planned because it still comes down to the human element; running the play, doing it correctly, coaching it correctly. And so, the excitement comes when we score, or we do execute that we had planned like that.