Clint Hurtt is a rookie - so to speak. The Bears assistant defensive line coach is in his first season working in the NFL after spending the past 13 seasons as a college coach at his alma mater, Miami (FL), along with Florida International and Louisville, the latter of which where he was associate head coach.
This season, his main job has been tutoring some other rookies on the Chicago defensive line. Recently, Hurtt spoke with ChicagoBears.com in his office about the transition of going from college to the NFL and helping the team's young players find success in the league.
After a long career coaching in college, what has it been like for you transitioning to working in the NFL?
The biggest thing is the adjustment to working with a lot of veteran guys that have a good understanding of the game. When you are coaching in college, you are dealing with some kids that, their knowledge is very vague and you are really building them from the ground up. So that's a big difference. But I think that helps me in a lot of ways, too, because there are a lot of things even for a veteran player they need to be reminded of on the basic fundamentals of things. But obviously, that's going to help a lot more with younger players like Will Sutton, Ego Ferguson, David Bass, Cornelius Washington. So it's been good in that aspect.
Do you coach the young players differently than you would to vets like Jared Allen and Stephen Paea?
The relationships are no different. The veteran players have really taken well and been receptive to me. That was something I was curious about initially coming into the NFL as it was. The guys who I'm maybe 2-, 3-, 4-years older than, what would the dialogue be like between us, with me being a younger coach? And it's actually been excellent, in my opinion. The biggest thing the guys want to know is that you are confident in what you're doing. And I feel like the guys all know that, so I think that relationship has been great, in working with them.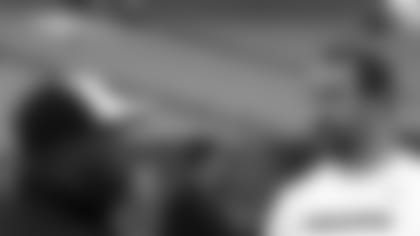 Clint Hurtt chats on the sidelines with Bears defensive end Jared Allen.
With so many young players, maybe some who have never been on struggling teams before, how do you keep their focus on the task at hand?
Well, for one, you make them understand that you are trying to build to something that is bigger, better and greater. We all want thing to be the ideal situation, and obviously expectations are high, as they should be for this franchise. But just understanding that when you go through some difficult phases like this and have to rebuild, you really show what you are about as a person, your character, how you go about your work every day. You still have to be a professional, this is your job, this is what you do. How you go about your work on the practice field, in the weight room, in meetings and all those things, and they understand that. They're good kids, I think they have their priorities in line. So they've been great with everything.
Looking specifically at Will and Ego, what have they learned from playing behind established vets such as Stephen and Jeremiah Ratliff?
It's been good for them, they have been able to take in information and learn from it. And the reps that they do get, they cherish them; they go out there and make the best of them. What's been really good about that is, with Ratliff and Paea, they are constantly talking to the young guys about what they're doing, where they saw mistakes they can handle better. So they are constantly critiquing. And the young guys, they're humble so they listen and take in information.
You played major college football at Miami before an injury led to your transition into coaching. Does being a former player help you as a coach?
Yes, in a sense, especially playing in this position. I can understand what it's like in the trenches, going through some of those things. What can be challenges based on a certain scheme, our scheme versus an offensive scheme. And then try to find some creative ways to help a player be successful. So having some experience certainly helps. And it also helps with (the players), because they know I've been in it before. So I would say it is an advantage.