The path for Dwayne Stukes to become the Bears' assistant special teams coach has taken him all over the globe, from his playing days at the University of Virginia to multiple NFL training camps and the Arena Football League to time as both a player and coach in NFL Europe. Along the way, he's gained great knowledge of the game, which he is eager to share with his players. This week, Stukes sat down in his office with ChicagoBears.com to discuss the Bears' special teams units, what his responsibilities entail and the time he was cut by the guy who's now his boss.
What does an assistant special teams coach do on a weekly basis?
Usually after the game, I grade the film with the help of (special teams coordinator Joe DeCamillis). So we come in and grade the film early in the morning. And then we actually have a point sheet for the players, so they have a standard of what they are accomplishing per week and also throughout the season. So we have two grade sheets: weekly and a cumulative season sheet. Then, after that, I break down our opponents. So whoever we are playing, I try to work a week ahead of Joe, so that when he comes in everything is set up for him to do what he needs to do in terms of game planning. I also assist with practice, what we are doing, depth charts, things of that sort. I do a lot of stuff to make sure Joe's job as easy as possible.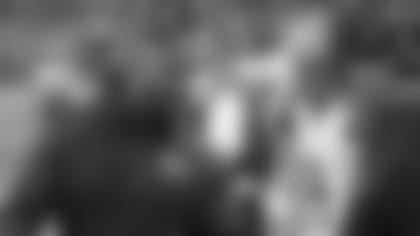 Dwayne Stukes chats on the sidelines with Bears special teams coordinator Joe DeCamillis and kicker Robbie Gould.
With a hand in so many different elements of the special teams, how do you manage your time to ensure everything is done?
I've been doing this for nine years now, so I'm used to it. We have a chart put in that's called 'Weekly Coaching Duties.' So Joe and I sat down prior to the season and we figured out what he needs to do and what I need to do to make sure our week goes by as stress-free as possible. And I think we've done a good job at delegating what duties he does and the things that I need to do for him.
Where have you seen the biggest improvement from the special teams?
What's surprising is, everyone thinks our kickoff team has gotten better, but I think our kickoff team has been our most consistent unit throughout the whole year. I think our coverage units as whole have done well. I know we had the one play in Carolina, but that was a fluke play, really. We get down the field, we have a penalty, everybody stops playing, the guy picks the ball up and scores. Other than that, I think Pat O'Donnell has done a good job, I think our gunners have done a good job, our punt team as a whole has done a good job.
When did you decide that you wanted to go into coaching?
To be honest with you, after the last time I was cut, I was tired of football. I had to get away from football, I was kind bitter about the business and not playing. So I got away from it for two years and went to be a personal trainer. Then I got an internship at NFL Europe, for ex-players to go over there and coach, and that's what I decided to do. I went to NFL Europe in 2006, was fortunate to come back and make contact with a coach that I played for in Tampa and did another internship down there. And then I was hired full-time later on.
You mentioned NFL Europe. Both as a player and coach in that league, what did you think of the atmosphere?
It was tough, because a lot of fans over there love soccer. Soccer is the sport over there – let's be honest. But as they got used to football and how it was played, we actually had a lot of fans in Berlin and in Dusseldorf, which is where the Rhein Fire played. So they started to enjoy football, once they understood what it was about. Growing up, soccer was their sport so a lot of them migrated to soccer. But I think it was a good experience and it was good exposure for the NFL.
You also brought up being cut, which is a rough part of life in the NFL. Is it true that a certain coach in the building played a hand in that?
(DeCamillis) did cut me, that is correct; we joke about it all the time. And it's amazing, because I believe it was 1999 and I was in training camp with the Atlanta Falcons. I was an undrafted rookie and they had drafted two corners. It's just funny, with me and Joe. When I was a coordinator in Tampa, we talked and stayed in contact, and he actually helped me with the process to interview for this job. So, it's funny, he did cut me and I sometimes joke that I should have a little conversation – not in a polite way – with him. But since he helped me stay in coaching, I owe him a lot, really.