No player on the field is under as much scrutiny as the quarterback, who is constantly being judged by coaches, teammates, opponents and fans. That puts a lot of pressure on the quarterbacks coach, whose job it is to prepare the signal caller as best he can.
Good thing for the Bears that Matt Cavanaugh is their quarterbacks coach. Cavanaugh played in the league for 13 years and has been a coach since 1991.During that time, he's seen nearly every situation imaginable for the position and has been a part of three Super Bowl-winning teams. Recently, Cavanaugh chatted with ChicagoBears.com about the complexities of quarterbacking, how the position has evolved and what has changed since his first tenure in Chicago, as the team's offensive coordinator from 1997-1998.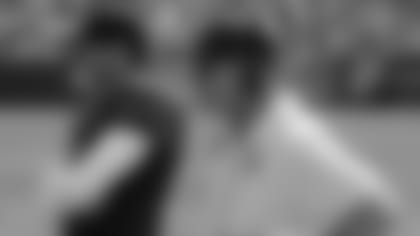 Jay Cutler and Matt Cavanaugh
It has been said that quarterback is the toughest job in all of sports. What makes the position so challenging to play?
Well there's obviously a huge physical component to it, when you have something in your hands that everybody else wants, you become a target back there. And then emotionally and mentally, it should be a very draining game. You are constantly thinking about what you're supposed to do, what you're teammates are doing, what the defense is doing, what's the situation, what's the down and distance, what's the score, how much time. It's just an emotionally and physically draining game. Granted you aren't on the field every play, but when you're out there, it's critically important. It can be stressful, but it's still the best job.
The quarterback must know not only what the offense is doing, but where all 22 players are on the field at all times. Is that difficult for younger players to grasp?
I'm convinced that coaching throughout the years has gotten better. I think you'd find that when college players get to the NFL, a lot of them have a good understanding of some of the basics of defenses, which means it's getting taught there. I think some high schools do a good job of teaching the basics of defenses, so when you get somebody that makes it in the NFL, you are keeping your fingers crossed that they have a pretty good understanding. Now we also get to evaluate them and interview them and talk to them to find out how much they know. We don't necessarily take fliers on guys who don't understand football. So we feel like we bring guys in who are smart, who have a chance to learn our system and learn our verbiage. Because quite honestly, you may go around the league and 32 teams may call a defense something different. But it's just a name, it's the same defense just different name. So we look for smart guys, and it's a challenge, but it can be done.
Does your experience as a player help you as a coach?
I think it helps me relate to the quarterbacks sometimes. It was a different era, but I think that it helps that they know that I've been under center, taken a snap and had to make decisions. And I know how hard it can be. But I also remind them of the benefits. 'You're playing the best position in sports. It may be the hardest at times, but it's also the best position to play.' The quarterback has a lot of control, a lot of opportunity to be a leader, play hard for you, play hard for the team. So I do flashback every once and a while and tell them a story, but for the most part, it was almost too many years ago.
When did you decide that you wanted to transition into coaching?
I played 14 years, and probably somewhere around year eight or nine, I started thinking about it. I came to the realization that I was going to be a career backup, that there was always going to be somebody on a team better than me that was going to play and I'd have to back-up. And I really started paying attention to the game, attention to the details, watch the coaches to see how they communicate information that they give. And I fell in love with it. I was 35 when I retired, and I wasn't about to start a new career. So I got an opportunity and I took it.
There's an interesting dynamic within the Bears quarterback room this season, with an establish vet in Jay Cutler, a young backup in Jimmy Clausen and a rookie in David Fales. How do you approach that, as a teacher, in the quarterback meetings?
Honestly I try not to treat them any different. I expect David to know the answer that I ask Jay or Jimmy, or vice versa. I treat them all the same. I can usually get a sense that somebody didn't get something or didn't understand it, and then I may at that point repeat myself or grab somebody after a meeting to try and explain it better. But they all compete with one another. They compete with one another in the classroom, on the field, so they're on their toes. I feel like when I get a good, young quarterback who's anxious to learn that it's a good thing, that I'm not going to have to fight for his attention. He'll be hunting me up, trying to find me for more information.
This is your second stint with the Bears. Are you a different coach now then you were in 1997 when you were Chicago's offensive coordinator? I'd like to think I got more coaching experience, that I learned a few more things, that I got better in what I'm doing. Certainly I have more experiences to draw on now, so I think just time gives you that. If you last long enough in this business, you get a lot of experience: a lot of good, a lot of adversity. You have to learn from all of it and try and get that across in your teaching to the player you are working with. You have to be a positive influence on them, make them feel good about themselves and what we are doing. It's my job to make the quarterbacks feel good every day, because that's when they'll be performing at their best.
How has the position itself changed, from when you played to when you started coaching to now?
I think a lot more is asked of the quarterback now-a-days. When I was playing early on, weren't responsible for as much going on as they are now. From making sure how guys are lined up to changing plays, making what we like to call new 'Mike points,' which is identifying somebody on defense that helps with our protections. There was not as much of that when I first started playing. So I think it's become much more of a demanding game, mentally, for a quarterback. Physically I think it's all relative. Back in that era, there were some pretty good football players that would knock you down.