Pro football is in Skip Peete's genes. His father, Willie, worked in the NFL for many years, coaching for the Buccaneers, Packers and Bears. His brother, Rodney, played 16 seasons in the league as a quarterback for six different franchises. Now Skip is in his 16th season coaching in the league, the last two as the running backs coach for the Bears.
That background has helped Peete churn out elite players at ever coaching stop he's been to. This week, ChicagoBears.com chatted with the coach about his family history, the team's slate of running backs and what he enjoys about the job.
What role did your family play in your decision to go into coaching?
Well actually, my father tried to talk me out of coaching. He had been a coach all my life, and he explained to me the time you spend away from family. As a coach, you miss some things from your kids as they grow up. Little league baseball and football and basketball games, same as high school, that you are not going to be there for. So if coaching is something I wanted to do, I had to understand I would miss out on those. I kind of thought about it, and then my college coach influenced me. I got a degree in broadcast journalism and I always thought that was fascinating. Whether that was behind the scenes or in front of the camera, I had a chance to do both when I was in college, and I thought it was a lot of fun. But my coach invited me to the University of Pittsburgh to spend the spring there, and try to make a decision of if that's what I wanted to do. Once I did that, I realized the excitement that I had as far as working with young men, watching them develop, teaching them the fundamentals of that position and then seeing them have success that that's what I wanted to do.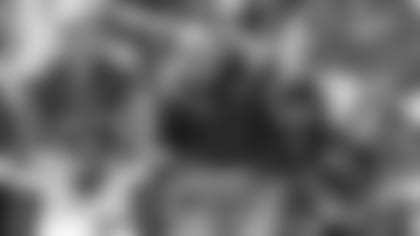 Skip Peete goes over plays with running backs Kyle Long and Ka'Deem Carey.
Since your coaching career began, how has the position of running back changed?
I don't know if it has necessarily changed, I would say maybe there's a little bit more emphasis put on the passing game than when I first originated in pro football. But pro football has always been, in my mind, a passing game. So the ability of a running back to pass protect as well as run pass routes is extremely important. Some guys don't have a whole lot of experience in that area coming out of college and you kind of have to work with them, but they eventually become guys who are capable of being a pass protector and run routes. As far as the position evolving, I know a year ago people talked about the diminishing role of the running back, about how guys aren't getting drafted as high. But in my mind, if you look at all successful teams, the running back plays a very important part of what they do. Even if you are a pass-happy team, there has to be somewhat of a balance to keep a defense honest.
This season, you have two rookies – Ka'Deem Carey and Senorise Perry. Where have those two young players improved since they came to the team?
Starting with Ka'Deem, he is a talented runner. He has good vision, I think he runs with good balance. He runs with some violence; he's a violent runner. He wants to punish the defender instead of letting the defender punish him. Not everyone runs with that style. I would say Senorise is a little bit different in that he will try to avoid the hit to utilize his speed and quickness to try and get around the defender. Both of them, I think, coming out of college, weren't really exposed to route running and catching the ball out of the backfield. That area is the area they've improved the most. I'd say for most backs coming out of college, the pass protection aspect and understanding defenses is probably the biggest aspect they need to improve on. If you understand the structure of the defense, you understand the responsibilities of the d-linemen and linebackers and safeties on certain fronts, coverages, and things of that nature, it will help you do your job that much easier.
Then there is Matt Forte. From a coaching perspective, what makes him such an efficient all-around player?
I think Matt is very unique in a lot of ways. First and foremost, he's an extremely intelligent guy. He has a great understanding of the defense, the defensive schemes, so he understands the responsibility of the d-linemen and linebackers on certain fronts. Matt is a very talented runner, with good vision and balance. He's faster than some people think he is. In the passing game, he's capable of running all the routes out of the backfield. He can also align out as a wide receiver and run some of the routes out of a wide alignment, and he's shown to be a physical and capable pass protector. This guy can play in any situation. Probably his biggest trait is that he trains so hard and that he gets his body in such good condition that he rarely gets tired.
Does Matt remind you of anyone else you've coached previously?
They've all been a little bit different. But he probably reminds me of a guy I coached in college, Curtis Martin. Curtis Martin was an intelligent back, had a good feel of both run and pass. They're all-around backs, utilize them in both run and pass.
Finally, you mentioned the challenges and stressful parts of the coaching job. What is the most fun part of being the running backs coach?
The games. You go out there and watch young players, hopefully, execute the game plan you put in during the week. When they have success in the game, you've worked on that all week and talked about it, explained what the scenarios could be and then see the success over the course of the game. To see the smile on their face, that's what makes me happy. Watching young guys who really have no idea what pro football is all about, and watch them blossom into a professional running back and have success doing it, you feel like you had the opportunity to have some success.