BOURBONNAIS, Ill. – The Bears are piling more and more on Jay Cutler's plate with each passing day, and coach Marc Trestman is pleased with how the quarterback is responding.
"I don't think he's flinched." Trestman said Tuesday. "I just think he likes football. He likes the information. He's working through a lot of different things in terms of the information. We threw a ton of stuff at him today; in our red-zone period, a bunch of new plays.
"We had multiple snap counts today throughout practice. Our line was focused, our guys were focused. We did not have a pre-snap penalty today and it was our most difficult day at the line of scrimmage with snap counts."
The idea is for Trestman and offensive coordinator Aaron Kromer to challenge Cutler and create adversity in practice so he's better equipped to handle difficult situations in games.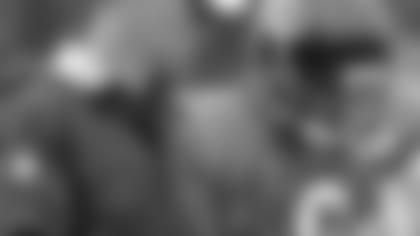 ](/multimedia/photo-gallery/Practice-806/88229b22-d8d3-4fde-b29c-a0c6ad1ae8a6)

Offensive coordinator Aaron Kromer chats with quarterback Jay Cutler during practice in Bourbonnais. Click here to see photos from today's practice.
Sometimes the results will be positive—like Cutler's long touchdown pass to receiver Joe Anderson Tuesday—and other times they will be negative—like when miscommunication between Cutler and receiver Brandon Marshall in the same practice led to a Chris Conte interception.
"We're trying to keep Jay Cutler uncomfortable as we sit here because we're adding more and more plays every day." Kromer said. "He'll become more comfortable when he runs the play a second time. You can see the plays that he does run for a second time because they're more efficient.
"We added new plays today. We walked through them, we did them in practice, and some were good and some were bad."
Cutler understands the approach and isn't frustrated that practice isn't always smooth.
"No, it's like a game; that's how it's going to be sometimes." he said." It's not always nice and easy how you draw it up. Sometimes you're going to face adversity. Sometimes you're going to have some batted balls, you're going to jump offside, you're going to make a bad throw. You have to rebound on the next play. That's the type of situations they try to put us in.
"I think you try to get comfortable with being uncomfortable. That's what they want so that the games are easier. The more pressure they put on us, the more uncomfortable they make it in practice, hopefully the easier the games are for us."
Like Trestman, Kromer is pleased with how Cutler is digesting all of the new information in camp.
"Jay is very smart." Kromer said. "He's intelligent, so you can put a lot on him; ask him to do a lot of things, so we hope that helps our entire offense."
Cutler will be given the freedom to change the play at the line of scrimmage this year, something he wasn't always permitted to do in his four previous seasons with the Bears.
"In any offense, you want the quarterback to understand the scheme, what the flexibility of it is, and what the answers are." said quarterbacks coach Matt Cavanaugh. "We may make a call because we're expecting something from the defense and all of the sudden something completely different shows up.
"We would expect him to help us get out of a bad play and into a good play. We don't want to waste plays; we say that constantly. He's going to know the offense good enough to protect us when we don't have a good play called."
The success of the Bears offense this season will be dependent in large part on the ability of Cutler and Trestman to think as one and be on the same page. It's a working relationship that began earlier this year and has continued to develop during the summer in training camp.
"I feel there is a comfortability, but a sense of urgency with both of us." Trestman said. "I feel like it's open and honest. It continues to grow. We've only laid a foundation here for the last six months. What's ahead will really allow us to grow and test us and I'm excited about that. I think he is as well. We understand what's at stake."
"We're getting more and more comfortable with each other, trusting each other more and more." Cutler said. "We're in close quarters right now; see him every day, talk to him every day, so it's going well. It's one of those things that's an evolving process each and every day; just learning about each other, what he likes and what I like and dislike. There have been no real serious bumps in the road yet."