With his contract set to expire, Bears defensive tackle Nate Collins cleaned out his locker at Halas Hall last Friday, loading his belongings into a large cardboard box.
After agreeing to a one-year deal to remain with the Bears late Sunday, Collins returned to the facility Monday with the box, which never even made it inside his home.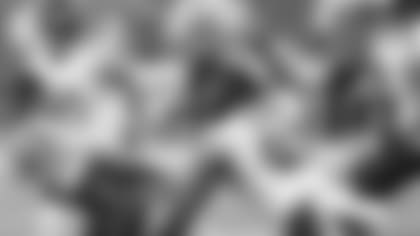 Bears defensive tackle Nate Collins brings down Lions running back Reggie Bush last Sept. 29.
"I didn't even take it out of my car," Collins told ChicagoBears.com. "It was in the backseat of my car the whole weekend. I figured when it was all said and done I was going to most likely be here. I was pretty sure I was going to get a call, so I just left it in the backseat."
Collins is ecstatic to be back with the Bears and is determined to pick up where he left off last season before suffering a torn ACL in a Week 5 loss to the New Orleans Saints.
"I feel like being here is the best possible situation for me personally," Collins said. "I felt like I built up some equity here with the coaches and the fans, and Chicago is a great place to live.
"With me getting hurt, I didn't really have any legitimate leverage, which I understand. I feel like if I didn't get hurt, maybe it would be a different story; maybe I would be waiting to go into free agency. But even if I didn't get hurt, Chicago would still be a place that I wanted to be.
"I feel like this defense fits my personality on the field very well and I feel like I can do well. I'm planning on just getting healthy and doing well in this scheme this year."
Collins was doing well last season, recording 13 tackles and one sack in the first five games before blowing out his knee. Ironically, his playing time had increased two weeks earlier after teammate Henry Melton also sustained a torn ACL in a Week 3 win over the Pittsburgh Steelers.
"It was very frustrating, but I'm a firm believer that God has a plan for all of us," Collins said. "I just felt like the way things played out, it was another test in my life and I feel like I'm going through that right now and I just have to roll with it.
"Guys get hurt. I feel like I've been blessed to play this game and this is my first real injury and my first real surgery. So it happens. Guys get injured and go through rehab. I plan on getting back out there and just taking off and starting where I left off and just being in there and producing. I want to have positive plays on every snap that I'm in there any way I can."
Even though Collins was so confident he would return to the Bears that he left his belongings in his car over the weekend, he concedes that the past few weeks were a bit unsettling.
"It's part of the business and at some point I feel like 90 percent of the guys in the league go through a situation or a time like that," Collins said. "But it's something that's nerve-wracking. You have to think about what's going to happen family-wise, with your personal, if you have to move.
"I also had to think where I was going to rehab and what I was going to do with that situation. So it's a little nerve-wracking just having to be prepared for so many things. But at this point I'm just glad that it's over and done with and now I can just focus on rehabbing and being ready to play."