The process of digesting a new offense continued for Jay Cutler and his teammates Tuesday as the Bears kicked off their mandatory three-day minicamp with a non-contact practice.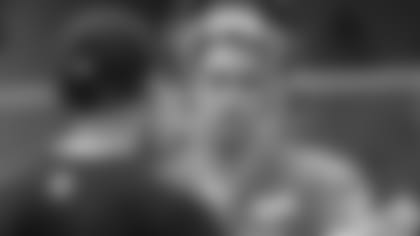 Jay Cutler listens to coach Marc Trestman during Tuesday's minicamp practice.
"It takes time," Cutler said. "It's every day, just trying to get better and trying to learn the offense so that it's less thinking and more just reacting out there, and I think the guys are doing a great job of taking it home with them and really studying it."
The collective bargaining agreement that was adopted in 2011 limits the number of hours and days players are permitted to spend at team facilities during the offseason. But with their playbooks on iPads, players are easily able to do "homework."
"With the amount of time we're allowed here, you can't really get in as much as you want to get in," Cutler said. "Guys are doing a great job and we'll see where we're at when we get to training camp. But right now I think we're on pace."
If anyone can gauge that progress it's Cutler, who's no stranger to learning new offenses. The quarterback is now working with his fourth different coordinator in five seasons with the Bears.
Cutler revealed that what he likes about first-year head coach Marc Trestman and new offensive coordinator Aaron Kromer is that they "have a great understanding of how to get guys open, how to protect the football and how to open up gaps in the run game."
"Right now we're just trying to learn the basics of the offense," Cutler said. "It's a three-year process to learn an offense. It just is what it is. It takes time. It's hard to go out there Year 1 and blow the doors off. But we're going to do the best we can with the time allowed and we'll see where we're at."
That destination is obviously the playoffs, and Trestman has an excellent track record of immediate success. During 17 years as an NFL offensive coordinator and position coach, he has helped five different teams make the playoffs in his first year on the job: the Browns (1988), 49ers (1995), Lions (1997), Cardinals (1998) and Raiders (2001).
Trestman is also known for his ability to mold quarterbacks. Under his tutelage, Steve Young helped the 49ers lead the NFL in scoring and passing yards in 1995, the Raiders' Rich Gannon was named NFL MVP in 2002, and the Montreal Alouettes' Anthony Calvillo won back-to-back CFL MVP awards in 2008-09.
"He does a great job," Cutler said of Trestman. "I really enjoy working with him. He understands quarterbacks. He understands how to protect quarterbacks. He's able to get into your mind and see what you're seeing and think what you're thinking and give you the best possible solutions.
"He's not going to send you out there with plays that aren't going to work or plays that are going to work against some defenses and not others. He's going to give you a lot of answers but make sure it's simple enough so that everyone else can understand."
Trestman has enjoyed working with Cutler throughout the offseason.
"He's very bright," Trestman said. "The meetings have gone very smoothly. There's intelligent interchange between himself, Matt [Cavanaugh], myself and the other quarterbacks. I love our meeting room. We're getting a lot done quickly. The guys understand the game.
"Jay's been in so many different offenses recently and I'm just totally impressed at how he's handled a little bit of new language, a little bit of a new way of looking at things. There are a lot of different ways to do things and this is a little bit different for him, but I think he's handled it extremely well."
Trestman also has been wowed by Cutler's work ethic and attention to detail.
"I'm really lucky to be working with Jay," Trestman said. "He's putting out every day. His work ethic is unparalleled; as good as anybody I've ever been around. His detail in the offense is as good as anybody I've been around. He's doing all the right things. He's working at his craft and it's not easy when you're starting over one more time.
"I applaud him and I think the team feels that when he gets in the huddle, he's in control, he knows the plays, as our other quarterbacks have done as well. At this stage, he's doing everything he can to get to where he wants to go and we need to be."