During Jay Cutler
's weekly meeting with the media following Monday night's practice, the Bears quarterback discussed pass protection and Saturday night's preseason game against the Redskins.
Although the Bears offensive line struggled while yielding six sacks in last Thursday night's 31-3 loss to the Broncos, Cutler remains confident that he will be adequately protected this season.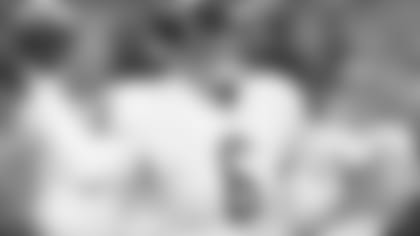 Jay Cutler
"They're going to be fine," he said. "Protection-wise, we're going to do what we have to to protect myself or whoever's in there. If we have to keep eight in there, if we have to keep nine in there, that's what we're going to do. We're not going to put those guys in positions where they're going to fail or I'm going to get hit. 
"We would like them to step up and be able to block 4-on-4, 5-on-5, but we'll see how it goes."
The Bears will be challenged Saturday night by a 3-4 Redskins defense that features a pair of linebackers who combined for 16½ sacks last season in Brian Orakpo (9) and Ryan Kerrigan (7½).
"Going into preseason games you get one or maybe two days to figure out what you want to do protection-wise, so those guys [on the offensive line] are a little bit handicapped," Cutler said.
"It's a 3-4 and we haven't seen a 3-4 in camp, so that's going to be a little bit of a change for us. It will be difficult, especially with a limited amount of practice, so we'll see how they handle it."
After sitting out the preseason opener, Cutler is eager to play Saturday night at Soldier Field. But he knows that whatever transpires won't necessary be indicative of how the Bears will fare this season.
"What we unroll against the Washington Redskins isn't the final product," Cutler said. "We've still got a lot of time. We've still got the rest of the preseason and then a game week where we have to prepare and really hammer down what we want to do offensively.
"We want to get in and out of the huddle. We want to execute plays. But it's not going to be the end of the world if we're not clicking on all cylinders Saturday."
Cutler had no issues with the Bears' decision to hold him out of the preseason opener one day after his fiancée, actress Kristin Cavallari, gave birth to the couple's first child, Camden Jack Cutler.
"You always want to play," Cutler said. "I wanted to be out there with those guys and at least get a couple snaps in. But they thought it was best that I didn't, so that's fine too, either way. It's preseason." [ ](http://www.phoenix.edu/campus-locations/il.html?utmsource=Story&utmmedium=instory&utmcampaign=300x100)
Although the Bears have a multitude of weapons at Cutler's disposal, he wants to wait and see how things unfold before declaring it the most explosive offense he has ever been a part of.
"It's up there, but we're a long way away," Cutler said. "We've got a lot of stuff we have to figure out. We've had good days out here [in practice], we've had bad days and we've had really bad days out here.
"There's a lot of work to be done. This isn't the final product. It's not going to be the final product on Saturday and it's probably going to take two or three weeks before we're ready to play in a real game."