Bears quarterback Jay Cutler took to the radio Tuesday to discuss last Thursday night's 23-10 loss to the Packers and his well-publicized sideline incident with left tackle J'Marcus Webb.
Cutler completed just 11 of 27 passes for 126 yards with one touchdown, four interceptions and a 28.2 passer rating as the Bears lost to their arch rivals for the fifth straight time.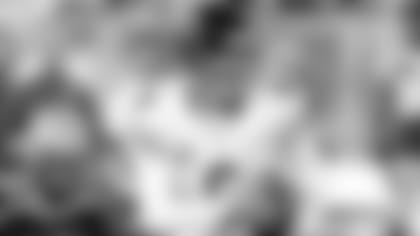 Jay Cutler looks for a receiver during last Thursday night's loss to the Packers.
"We got beat by a good football team," Cutler said on a live broadcast of "The Jay Cutler Show" at the Westwood Tavern in Schaumburg. "Offensively it starts with me, so I've got to play better, and then it trickles down. It started early on in that game and it never really got better."

Cutler's hour-long weekly appearances are part of "The Waddle and Silvy Show" on ESPN 1000. Most of the first segment Tuesday dealt with what transpired Thursday night after Packers outside linebacker Clay Matthews beat Webb for a sack in the second quarter. Cutler yelled at Webb as they left the field and then bumped the third-year pro after reaching the sideline.

"I can't put a definite reason why it happened. It happened," Cutler said. "It's an emotional game. I put a lot into playing quarterback and I take it seriously. It's just one of the things that happened during the game. Since then we've talked about it and it's really behind us."

Cutler said that he has discussed the situation with several people within the Bears organization.

"I've talked about it with the powers that be down there," he said. "I've talked about it with the offensive line, each of them individually. It is what it is. I think it's been blown up probably a little bit bigger than all of us expected. But that's what you have to expect out of the media."

Asked if he regretted his actions, Cutler said: "I probably shouldn't have bumped him. I'll go with that. As far as me yelling at him and trying to get him going in the game, I don't regret that. I shouldn't have bumped him. I'll stick to that."

Asked where he personally needs to improve, Cutler spoke about avoiding interceptions.

"In a game like that when you are getting a lot of pressure, the ball's valuable, so just taking care of the ball," he said. "When you get into a game that's kind of pass heavy and you're trying to catch up, you've just got to be careful because you can't score without the ball."

Cutler revealed that he doesn't let criticism in the media bother him, saying: "You can't let it bug you because, win or lose, there's always going to be something that they say you should do differently or improve on. My job is to get those 10 guys in my huddle to play to the best of their ability and that's what I'm going to try to do."

Asked for his definition of leadership, Cutler said: "Doing your job, doing it the right way, having some integrity, having confidence in what you do, showing guys that it's important to you, and that's what I try to do every day. I'm not the most vocal leader on our team. I don't think we really have a lot of vocal leaders. We've got some guys who just go to work and do it the right way and are real professionals about their job."

Cutler is confident that the Bears will rebound from their loss to the Packers beginning Sunday when they host the St. Louis Rams at Soldier Field.

"It's a long season. As players we understand it," Cutler told co-hosts Tom Waddle and Marc Silverman. "You guys are the ones that take it to DEFCON 5 and act like the sky's falling.

"We're sitting there like, 'We lost one; it happens. Let's fix what we've got to fix, let's keep working hard. We've got some great leaders in that locker room. We've got some really good players. We've got some talented players and we believe in the system and we believe in [ourselves] as players.

"We're not listening to everything and reading everything and going, 'Oh, man, we're done. We're finished. This is over. We're a horrible team.' We don't buy into that. We know we're a good team. We know we've got good players. We've got a good system. We've got good coaches. So it's just a matter of us getting back to work, fixing what we've got to fix and moving on."