Quarterback Jay Cutler expects to practice this week and doesn't think the bruised ribs he suffered in Monday night's win over the Lions will hinder him Sunday when the Bears host the Panthers.
"I know I'm not going to have any problems," Cutler said Tuesday during his weekly radio show on ESPN 1000. "[Wednesday] is more of a mental day for us, coming off a Monday night game. We'll have a hard Thursday, Friday and a little bit of a work day on Saturday before the game. We have another day off kind of [Wednesday]—more mental—so I'll be good to go by Thursday."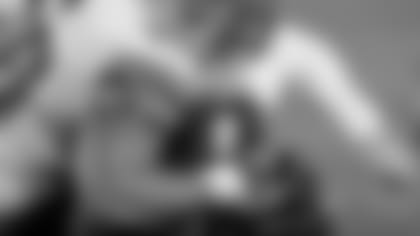 Lions defensive tackle Ndamukong Suh drives Jay Cutler into the ground Monday night.
Cutler was injured midway through the second quarter when he was sacked by defensive tackle Ndamukong Suh. The 6-4, 307-pounder drove him into the ground and landed on top of him.

"That was a tough hit," Cutler said. "He caught me just right. I think it was an awkward fall more than anything. I kind of got caught on his knee and the ball a little bit."

The NFL reportedly has announced that Suh will not be fined because it was a legal play. Cutler reiterated Tuesday that he feels the hit was not dirty.

"That defense, you know going into it what their intentions are," he said. "They play hard football and they get after the quarterback. They're tough tacklers and that's just who they are. I'm not going to take anything away from them. I still think it was clean. [Suh] is a good player, and that's what makes him who he is, playing that way.

"There are certain guys that just kind of know how to take you down. They wrap you up and they get you on the ground. With this team, their intentions are to drive you into the ground. That's what it is. We know that going into it. Is it against the rules? No, not by any means.

"That's just how they play football, and you've got to respect it. I'm fine with it. I knew going into the game that if they had a chance like that on me they were going to take it."

While Cutler absolved Suh of blame, Bears receiver Brandon Marshall criticized the Lions defensive tackle on Twitter late Monday night and ESPN's "First Take" Tuesday morning.

Marshall wrote to Suh on Twitter: "What u did to Jay wasn't cool. Great players don't have to do that. Something I've learned and now passing down to you. Succeed with character."

On "First Take," Marshall said: "Last night the leg whip that Ndamukong Suh placed on our quarterback, Jay Cutler, that was dirty. He can be one of the best d-tackles that's ever done that, but he cannot do it that that way. If you look at it, c'mon man, this is not wrestling. You don't leg whip someone, pound them. You don't do that."

Cutler sat out one play, returned for one snap and then missed the final series of the first half while being evaluated in the locker room. He then played the entire second half, finishing the game completing 16 of 31 passes for 150 yards with one touchdown and a 76.0 passer rating.

"I thought we were getting a little bit of rhythm going and then I went down, and then our game plan kind of got a little bit off whack a little bit," Cutler said. "They didn't know how I was going to be able to throw. I wasn't throwing the ball that well and the way the defense was playing we were just trying to kind of grind it out."

Cutler's first inclination that he was going to have trouble throwing the ball because of the injury came on his first pass attempt of the second half.

"I tried to throw a little hitch route to Kyle Adams and skipped it out there," Cutler said. "I wish [the injury] wouldn't have happened. I think we could have played a little bit better offensively."