Speaking publicly for the first time since suffering a concussion Nov. 11 against the Texans, Jay Cutler said he feels good but isn't sure he'll play Sunday when the Bears host the Vikings.
"I feel good, as normal as can be," Cutler said Tuesday on his weekly radio show on ESPN 1000. "We're going through the process. I met with a doctor Monday morning. I've got a few more hoops to jump through, so we'll see how it goes this week."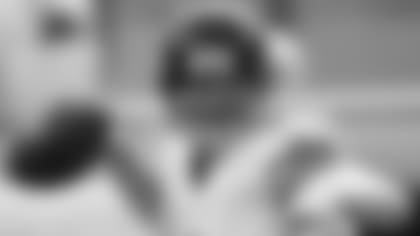 Jay Cutler
Cutler and rookie defensive end Shea McClellin both sat out Monday night's 32-7 loss to the 49ers with concussions. Asked if it was safe to say he didn't pass all the tests to be cleared to play, Cutler said: "No, that's not safe to say. Before I even took a test I met with Lovie [Smith] and our trainers, me and Shea both, pass or not pass the test everyone was leaning towards us not playing."

Cutler was injured on a helmet-to-helmet hit by Texans linebacker Tim Dobbins, who drew a 15-yard penalty and a $30,000 fine. The Bears quarterback didn't think it was a dirty play, however.

"I don't think there's ever really malicious intent," Cutler said. "It's a reaction game. Guys aren't out there planning on taking guys out because there's just not enough time for the brain to really fire like that. He's out there reacting, he's playing football.

"At the end of the day I wouldn't want to be a defender in this league in this era. It's hard. You're expected to play at an extremely high level, extremely fast but your target has shrunk significantly over the years of where you're able to hit guys. I wouldn't want to be a safety or a linebacker."

Making his first start of the season in place of Cutler, veteran Jason Campbell struggled against the 49ers, completing 14 of 22 passes for 107 yards with one touchdown, two interceptions and a 52.7 passer rating while getting sacked six times.

"I felt bad for the guy," Cutler said. "It's a hard situation to be in. Backup quarterback is one of the best jobs and one of the worst jobs. It's great whenever the starter is out there playing. You can kind of just go through the week and help out where you need to help out.

"But it's a tough gig whenever that guy goes down and you're expected to go on, especially a veteran like him because he's expected to play at a high level. I think if you ask the rest of the offense, they didn't really give him a fair shot."

While the line seems to be receiving the brunt of the criticism, Cutler feels that the entire offense needs to improve.

"We've got to get better," he said. "It involves all of us. It involves me, the receivers, running backs, Mike Tice, all the coaches, the offensive line; it's a group effort. We've played well in the past. We need to get back to that point."

Asked if he feels the line is capable of playing well enough for the Bears to win the Super Bowl, Cutler said: "I don't see why not. It's a talented group. I know they work hard and I know they want to be very good offensive linemen.

"We've got to help them out with some pass protection. We've got to run the ball efficiently and we've got to pick our spots where we're going to take our shots passing game-wise, [with] some play-action passes. We just have to be smart with it."