After struggling for most of Sunday's game along with the rest of the offense, Jay Cutler saved his best for last, lifting the Bears to a dramatic 23-22 comeback win over the Carolina Panthers.
Trailing 19-7 midway through the fourth quarter, Cutler threw a 12-yard touchdown pass to tight end Kellen Davis and then set up Robbie Gould's game-winning 41-yard field goal as time expired by engineering a nine-play, 55-yard drive.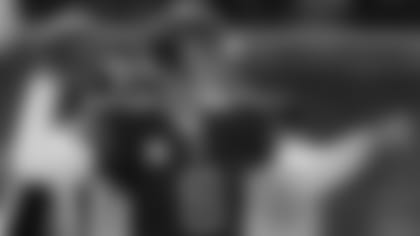 Jay Cutler led the Bears to a touchdown and a field goal on their final two possessions Sunday.
"That's the part of the game we want to remember," coach Lovie Smith said Monday. "A lot of things happened before we weren't really proud of. We didn't start the way we wanted, but we hung in there."

In the first three quarters, Cutler completed only 7 of 14 passes for 80 yards with one interception, two lost fumbles and six sacks. In the fourth period, the Bears quarterback connected on 12 of 14 passes for 106 yards with one touchdown and a 122.0 passer rating.

Cutler had entered the game ranked No. 1 in the NFL with a 125.0 rating in the fourth quarter, ahead of the Broncos' Peyton Manning (118.4) and the Packers' Aaron Rodgers (109.6).

On the game-winning drive Sunday, Cutler completed 6 of 7 passes for 52 yards, including gains of 8, 7, 11 and 10 yards to receiver Brandon Marshall. The Bears started the possession at their own 22-yard line with 2:27 to play and one timeout remaining.

"Jay Cutler was outstanding in the fourth quarter," Smith said. "We practice each week on that two-minute drive where we have to go down and most of the time it's a field goal or a touchdown we practice. That's how you draw it up to finish the game. It's always about how you finish the football game."

No apologies: The Bears were outplayed by a wide margin and outgained 369-59 at one point late in the third quarter Sunday. But they understand that style points don't matter in the NFL.

"You have to just be thrilled about any win you get, even when you don't play your best ball," Smith said. "We realize we didn't play our best ball, but we're not going to apologize for the win. We're going to take it. We like the 6-1 record."

The comeback victory provided a valuable lesson in perseverance while also exposing some areas on both sides of the ball that need to be improved.

"I think you learn a lot from a game like this," said cornerback Charles Tillman. "We were down the whole game. But we kept playing, kept playing, kept playing, kept pushing through. It was an ugly win, but it was a win. We definitely have a lot of corrections to make. We can take some good off of this, but we have to learn from it."

No letdown: Smith insists that the Bears didn't take the struggling Panthers for granted. He thinks his team's poor performance for three and a half quarters Sunday had more to do with facing an opponent that's better than its record indicates after playing a Monday night game.

"We had a 1-5 team that came in here and played pretty good football," Smith said to reporters. "You look across the league. I think if you're a true pro, you don't get into those things.

"You all talk an awful lot about letdowns and things like that, but for us I think you just look at what happened to us. Most of the time, a team coming off a Monday night game has a tougher time the following week, that's what the statistics say. We fell into that group."

Boo Bears: Cutler said that he doesn't blame Bears fans for booing their team as players headed to the locker room following a lackluster first half Sunday.

"I'd boo us too," Cutler said. "It was a boo-worthy performance. It was pathetic offensively what we put out there. It wasn't up to standard product-wise. We have to get better; we know that, our fans know that. Luckily enough we got out of there with a win, but the first half is nothing to be proud of."