The money is certainly nice, but Jay Cutler was not interested in creating a bidding war on the open market.
The veteran quarterback, who signed a seven-year contract with the Bears Thursday, wanted to return to Chicago simply because he feels it gives him the best chance to win a Super Bowl.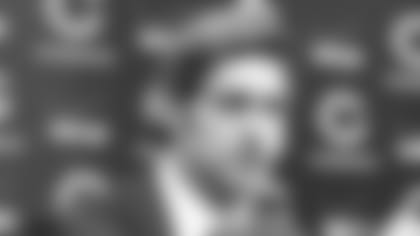 Jay Cutler speaks to the media Thursday after signing a seven-year contract.
"I can't speak for every player, but you get to a certain point [when you wonder] what's the most important part of your career," Cutler said Thursday at a press conference announcing his new deal. "Do you want to say, 'Hey, I made 'X' amount of dollars,' or 'Hey, I won championships?'
"I talked to guys like [Matt] Forte, [Brandon Marshall], [Roberto] Garza and all the guys. We're here to win championships, not to make so and so amount of dollars. That was my thought process. Whether it's $15 million or it's $22 million, it's hard to spend all of that in your lifetime."
Cutler has full confidence in general manager Phil Emery to build a championship team. Earlier this week on his radio show, Cutler said that the situation in Chicago—with an offensive-minded head coach in Marc Trestman, talented playmakers and a much-improved line—would appeal to any quarterback.
"I said Monday before I knew what direction we were going to go in, whether I came here or a different quarterback came here, the direction of this organization was heading in the right way," Cutler said. "The people that make the decisions and influence people are the right group.
"The mindset is right and the talent in the locker room is right. I'm happy to be joining the rest of the guys, the rest of the coaches, the rest of the organization, in our pursuit of a championship. That's the reason I wanted to come back because I truly believe that we have the right group of people to make that happen."
Cutler is especially excited to continue to build continuity with his coaches and teammates. This season the Bears ranked second in the NFL with 445 points and their offense set team records with 6,109 total yards, 4,450 passing yards, 344 first downs, 32 passing touchdowns and a 96.9 passer rating.
"It's huge," Cutler said. "If you ask any quarterback throughout the league, being in an offense numerous years, being around the same group of people, hearing the same play calls, experiencing three-deep against a certain call that is favorable and being able to manage that call, that's what it's all about. The group of guys we have, they're going to make it so much easier."
In just five seasons with the Bears, Cutler has become the franchise's all-time leader in most passing categories with 1,258 completions, 2,090 attempts, 14,913 yards and an 83.1 rating. His record as a starter since arriving in 2009 via a blockbuster trade with the Broncos is 39-28.
While Cutler has rewritten the Bears' record book, he has struggled at times with interceptions and injuries that have forced him to miss 18 games over the past four seasons.
"It hasn't always been easy," Cutler said. "We've had some ups and downs. There have been some bad years. There have been some good years. I think it makes me appreciate the situation and the moment I'm in even more.
"With the offensive weapons that we have, with the type of relationship that we have from the front office, with the coaching staff that we have with their detail and organization of our play-calling and our install, it makes me happy I'm here. It made my decision of coming here much easier."
Cutler opened his press conference Thursday by thanking the Bears organization, the entire McCaskey family, Emery, Trestman, team president and CEO Ted Phillips, contract negotiator Cliff Stein, all the coaches and "everyone that makes this building run." Sitting off to the side was Cutler's wife, Kristin Cavallari.
"It's been a fun ride I've had here and I'm looking forward to the future," Cutler said. "I'm obviously going to be here quite a bit longer."
Cutler reiterated that his agent, Bus Cook, and the Bears did not talk contract during the season, which means they reached an agreement in about three days.
"I think whenever you have two groups that want to work in the same direction and want the same thing to happen, it can happen pretty quickly," Cutler said.
The quarterback, who said that he wanted to re-sign with the Bears before hitting the open market, is relieved that he can focus solely on football.
"I'm excited," Cutler said. "I don't feel a lot of pressure right now. I just feel at ease. I know that I'm locked in here. The future is set. Now it's just about going out and being the best quarterback I can and helping lead this team in the direction we want to go. I was telling [Marshall] a couple of days ago, I'm ready for OTAs. I'm ready to get this thing going. I'm ready to start working on what we've been building on."