Dormant longer than some volcanoes, the Bears offense exploded in Marc Trestman's first season as coach last year, compiling points and yards at a record-setting rate.
Returning all 11 starters—including a talented quarterback, a dependable line and a multitude of playmakers—the unit appears primed for another stellar campaign. But that doesn't mean that anyone on the offensive side of the ball is taking anything for granted.
"I think you've got to be careful with that," quarterback Jay Cutler said Wednesday after arriving at training camp. "We've still got a lot of work to do. We've still got a lot of things to prepare on.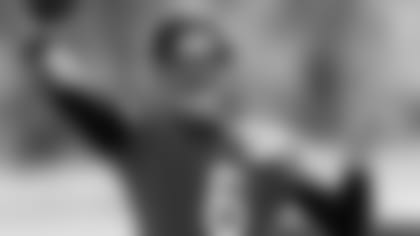 Jay Cutler finished last season with a career-best 89.2 quarterback rating.
"I think everyone in the NFL is confident right now. Everyone likes what they have on paper. Everyone likes their roster. That includes us. But that doesn't guarantee us anything. We've still got to go out there and perform. We've got to get better each day."
Cutler understands why expectations are so high; last season the Bears ranked second in the NFL with 445 points and set team records with 6,109 total yards, 4,450 passing yards, 32 passing touchdowns, a 96.9 passer rating and 344 first downs.
But Cutler doesn't feel that guarding against overconfidence will be too difficult, not with a team that has made just one playoff appearance in seven seasons since reaching Super Bowl XLI.
"We haven't had a lot of success, so I don't think it's that hard," Cutler said. "It's not like we're coming off a monster season after monster season. I still think this is still a hungry group. There's a lot left that we want to prove."
Everywhere Cutler goes, he runs into Bears fans who are pumped up about the 2014 season.
"We're glad that they're excited," he said. "We try not to let it affect us. Being out in the city and being around people, you can tell how excited they are, how ready they are for this season. We can't let that seep into our mindset. We haven't done anything yet. We've got to take this camp seriously and get out of it as much as we can."
Like Cutler, Trestman is not worried about the offense being too overconfident.
"I'm not worried about anything because of the perspective that I think we have," said the second-year coach. "We have a smart group of guys. They know on paper and they know the talent that we have offensively, but they also know that they've got to work. They've got to not just put in the time, but they've got to focus in and put in the time and be specific and get better at their work.
"There are a lot of teams
around this league that have studied our offense, too. They're getting ready for us and for us to get ready for them, we've got to go to work every day and build from not necessarily where we were a year ago but essentially start over.
"We've got to take the mindset that we're starting over. What we did is not necessarily indicative of where we're going. It gives us an idea of what we can become. But it starts with work and focusing and keeping our feet on the ground and not getting ahead of ourselves. It's not just something I'm saying to them. I hear them saying it to each other, and that's a really good sign."
Looking ahead to the season, Cutler isn't concerned about the offense rewriting the record book for the second straight year; the only numbers that matter to him are the ones in the standings.
"Statistics take care of themselves," Cutler said. "We do more of the little things of kind of my mechanics, play to play, not wasting plays, looking for the best play possible. We set goals in that manner. At the end of the day, if we win the game we can always clean up the mess afterward."