Jay Cutler is pleased with the progress the Bears have made learning their new offense under first-year coordinator Adam Gase—even if it wasn't evident on the practice field Wednesday.
The defense dominated the workout in Bourbonnais, but that didn't change how the Bears quarterback feels about the strides the offense has taken through one week of training camp.
"Today was a bad day for us offensively," Cutler said. "I think everybody across the page isn't going to be happy with the performance. But I think up to date we've done a good job so far picking up the language, the lingo and what the coaches want us to do.
"Adam and everybody else have communicated really clearly our jobs. We're heading in the right direction. Where we're at, I don't know exactly. But I know we're doing the right things each and every day."
Cutler has been impressed with the work his teammates have done on their own time to digest the offense.
"I think we're right where we need to be," Cutler said. "The guys have done a really good job of learning this system because it's not an easy system. It's not something that you're going to pick up in two or three weeks. You've got to put some time into this one and guys have done a really good job on the field and off the field.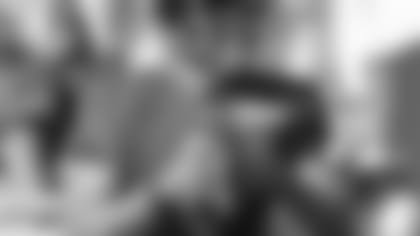 Jay Cutler has not thrown an interception in the first six training camp practices.
"If you just do things on the field and you don't take it home with you, you're not going to learn this system and we're going to know it pretty quickly. I think everyone in the offense has put in time off the field so that when they get in the building they know what to do."
Cutler is learning a new offense for the fifth time in seven seasons with the Bears. Asked what he hopes to tap into with Cutler, Gase said: "His intelligence. It's way better than I expected. His ability to communicate with his teammates because he's further ahead than everybody else."
While Gase acknowledged that quarterbacks are generally ahead of the learning curve due to the nature of their position, he added that because Cutler has directed so many offenses "he kind of recognizes a lot of the concepts we're doing. That makes it easier on him to jump ahead of the rest of the guys."
Gase and Cutler have known each other for nearly a decade. When Gase was an offensive assistant with the Lions in 2006, he picked up Cutler at the airport when the quarterback made a pre-draft visit to Detroit. The two later reunited for a couple of months with the Broncos in 2009 before Cutler was traded to the Bears.
Gase is the fifth different coordinator Cutler has worked with in seven seasons with the Bears, following Ron Turner, Mike Martz, Mike Tice and Aaron Kromer.
"Any quarterback I think is going to be happy with him," Cutler said. "He does a really good job of putting you in the right position, keeping the defense off balance and mixing up the play calls, and that makes it easier on the quarterback."
Gase is confident that the Bears will be able to run the ball effectively this season behind a solid line and talented running backs, led by two-time Pro Bowler Kyle Long.
"I feel really good about our line," Gase said. "I think that stable of backs we have is very impressive. I'm feeling pretty good about it. We didn't have a great day today. Our defense really took it to us, which is good. Now we can go back, correct the things we need to correct and find out a way to get positive yards. But right now as far as what our offensive line's done, I feel really good about it."
Cutler figures to benefit from a more balanced offense than the pass-happy scheme he played in the past two seasons under coach Marc Trestman.
"It's going to help every quarterback across the league," Cutler said. "Everyone at the end of the day wants to have some sort of balance. It gives you friendlier coverages. You're going to see less blitzes. It's going to make your life a little bit easier. Adam's aware of that. I know coach [John] Fox preaches on it as well. It's going to be something in the back of our minds we're always going to be thinking about."
Last season Cutler passed for a career-high 28 touchdowns, but he tied for the NFL lead with 18 interceptions and topped the league with 24 turnovers. Through the first six training camp practices, Cutler and the No. 1 offense have not turned the ball over a single time.
"I've liked their progress," Fox said. "I've liked their toughness up front. I like that our starting group has not had a turnover yet. It's not games or anything, but in practice it's something coach Gase and the offensive staff has stressed ball security. I like where they are right now. I'm anxious to see them in a game situation."