The Bears remain totally committed to quarterback Jay Cutler, but concede that there are aspects of his game he can improve during the second half of the season.
"There are things that Jay is doing very well," said coach Marc Trestman. "He's handling himself exceptionally well on a play-by-play basis in terms of he's calm and relaxed, and he knows exactly what he's doing. There's no doubt about it. He's functioning very well play-by-play.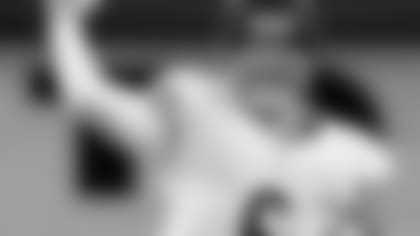 Jay Cutler has passed for 2,093 yards and 17 touchdowns in eight games this year.
"There are [also] things he hasn't done; what he's got to do better. We've talked about that on a number of occasions, and there are things we can help him with. His leadership has been at a premium through all of this on a consistent basis throughout the season."
Statistically, Cutler is having his best season since joining the Bears in 2009. He has completed 67.2 percent of his passes for 2,093 yards with 17 touchdowns, eight interceptions and a 95.8 passer rating. His best output in those categories in his five previous seasons in Chicago was a 63.1 completion percentage and 89.2 rating in 2013, and 3,666 yards and 27 TDs in 2009.
Cutler is also on pace to throw twice as many touchdowns as interceptions for the first time in his nine-year NFL career. But with that being said, he has also lost four fumbles, which coupled with his eight interceptions means that he's turned the ball over 12 times in eight games.
Asked to assess Cutler's performance over the first half of the season, general manager Phil Emery said: "We're a 3-5 team and he's a 3-5 quarterback right now. There are a lot of things he's got to get better at and there are a lot of things we've got to get better at.
"In terms of protecting the football, some of them are just situations—a guy coming from the blind side—but you have to keep the ball up and away. We've got to get better at that. He knows that. He holds himself accountable for it and he'll continue to strive to get better in that area."
Emery acknowledged that Cutler had some fundamental flaws when he entered the draft in 2009.
"I've been watching him since he was at Vanderbilt," Emery said. "In the past, he was better than everybody around him, and when you're better than everybody around you you're pressed to make plays.
"Coming out of Vanderbilt, some of his things from a technical standpoint were concerning—in terms of coming off the back foot, protecting the football. A lot of that revolves around trying to make plays. And Jay, like a lot of players in that position, has a little bit of a gunslinger personality in terms of, 'I want to be the guy making the plays.' He trusts his arm. Those are habits. Habits are hard to improve."
While that may be true, Emery has seen Cutler make major strides in those areas and knows that it wasn't easy for the quarterback, especially playing behind leaky offensive lines in his first few seasons with the team.
"Have I seen improvement from Vanderbilt? Absolutely," Emery said. "Have I seen improvement in the last two years? Yes, I have. I know where we were at two years ago and I know how many sacks he took, how much pressure and hits that he played through, and how he tried to overcome that group that was in front of him and how he tried to compensate.
"I think he's bought all the way in in terms of, 'Here's what's important, here are the concepts that we're trying to accomplish.' We still have some time to go. We still have some things we have to clean up."
Even with the ups and downs Cutler and the Bears have experienced so far this season, Trestman appreciates the quarterback's work ethic and even-keeled approach.
"Jay Cutler comes in here every week and he has been the same guy," Trestman said. "He is willing to listen, he's actively engaging his teammates, he's accepting accountability when those times come during the meeting and doing everything he can to help this football team."