Jay Cutler said that he was "shocked at first and then disappointed" when informed by coach Marc Trestman Wednesday that he was being replaced as Bears quarterback by Jimmy Clausen.
"I didn't see it coming," Cutler said Thursday. "But I think anytime you lose a lot of games and you don't play as well as you'd hoped, there's a chance that could happen."
Cutler has quarterbacked a stagnant offense that has struggled in most areas after rewriting the team's record book last season. The nine-year veteran has passed for 3,640 yards and 28 touchdowns, but he leads the NFL with 18 interceptions and 24 turnovers.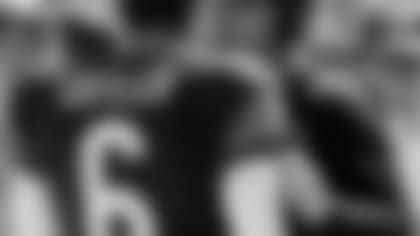 Jay Cutler has passed for 3,640 yards, 28 touchdowns and 18 interceptions in Marc Trestman's offsense this season.
While the demotion has clouded his future, Cutler would like to return to the Bears next year.
"I would like to stay here," said Cutler, who is in his sixth season with the team. "I really like it here. I love the guys in the locker room that I get to play with. Clearly, it's different circumstances now. But going forward, this is where I'd like to be."
On Wednesday, Trestman conceded that he's been unable to get the most out of Cutler this season. But the quarterback would have no problem playing for the coach again in 2015.
"I definitely think I could," Cutler said. "We'd have to figure some things out through the offseason, which I think would be easy enough to identify and work on things. But that's not out of the question, in my book anyway."
Although Cutler signed a lucrative seven-year contract last January, this week's demotion has him wondering whether the Bears are as committed to him as they once were.
"It's a natural response to wonder that," Cutler said. "But like I said, going forward it is what it is. Whatever happens at that point between after the season and March or whenever they make the decisions, we'll cross that when we get there.
"In my role right now, I just have to support Jimmy, try to help him as much as possible and whatever happens after that last game [happens]."
For the second straight week, Cutler performed very well under difficult circumstances during his weekly press conference. Last week he had to answer questions about offensive coordinator Aaron Kromer admitting that he criticized Cutler during a conversation with an NFL Network reporter.
On Thursday, Cutler displayed honesty, emotion, maturity and a sense of humor. When a reporter asked whether the demotion was fair—and followed up by inquiring if it was unfair after not receiving a satisfactory answer, Cutler joked: "I think that's the same question."
In discussing the adversity he's experienced the past two weeks, Cutler said: "I think it's going to serve me going forward. Hopefully, it's here. If not, it will be somewhere else.
"It's definitely been different. It's something I haven't experienced. It's hard to say right now it's valuable because I don't really enjoy the situation we're in right now, but I think later on, whenever you look back on it, it's going to serve me well."
While Cutler is among the highest paid players in the NFL, that hasn't made his lack of success this season any easier to accept.
"Whether I make what I make or I make far less, I still want to go out there and play at an extremely high level," he said. "That's why I started playing this game in the first place.
"I'm still disappointed. Whether they pay me or don't pay me, I don't like being in this situation. I don't like having to sit up here and answer these questions about me not being able to play on Sunday. I'd rather get paid less and be able to play on Sunday and play at a high level, if that was possible. But it's not right now. The security of the contract is nice, but I would trade that for reversing our record and playing better football."