In Marc Trestman's first season as head coach of the CFL's Montreal Alouettes in 2008, the team allowed only 22 sacks after yielding 68 the previous season with the same offensive line.
"He came in and changed our blocking scheme to make sure that the quarterback had the best opportunity to finish his throwing motion," Alouettes quarterback Anthony Calvillo told ChicagoBears.com in January. "That was one thing he stressed."
Jay Cutler is hoping that history repeats itself in Trestman's first season as Bears head coach, and so far the veteran quarterback likes what he sees in his new playbook.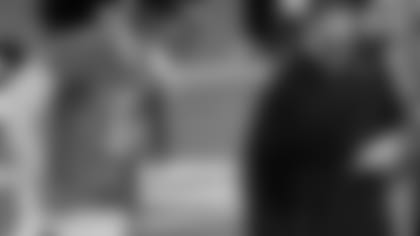 ](/multimedia/photo-gallery/Veteran-Minicamp/ca3eb15d-54ce-4fa2-a93a-d5df5b9aedf8 "Photos from minicamp")
Click image to view photos from Tuesday's practice at Halas Hall.
"We're going to protect the quarterback and get rid of the ball as fast as we can," Cutler said Tuesday after the first minicamp practice. "We want to get the ball to playmakers. That's where we're going to make our money, getting them the ball fast and letting them make plays for us."
Having been sacked 148 times in 56 starts over four seasons with the Bears, Cutler appreciates the emphasis that's being placed on pass protection and getting the ball out of his hands.
"We don't want to hold the ball," he said. "We don't want to sit in the pocket for long periods of time. Obviously there are going to be plays where we're going to have to sit in there and deliver it, but for the most part we want it gone."
Cutler is in the process of learning his fourth different offense in five seasons since being acquired by the Bears on April 2, 2009 in a blockbuster trade with the Broncos. He previously worked with coordinators Ron Turner (2009), Mike Martz (2010-11) and Mike Tice (2011) in Chicago.
Cutler conceded that learning a new system is both exciting and frustrating.
"Anytime you come into a new system it's hard," he said. "It's like learning a new language. Things are called differently than what you're used to. Your mind is trying to picture the plays in your head and sometimes it's a little fuzzy. But it's fun. I think coaches are making it really fun for us. They're challenging us and making us learn."
Cutler and the rest of his teammates were given their playbooks April 2 when the Bears began their offseason program. After meeting in classrooms the past two weeks, the start of minicamp Tuesday marked the first time that players worked with coaches on the practice field.
"The best thing for myself and the rest of the quarterbacks is getting out here and [calling plays] live and going through the motions and completing a play," Cutler said.
Before heading to the CFL, Trestman spent 17 seasons as an NFL offensive coordinator and position coach. During that time, he helped mold several quarterbacks. Under his guidance, Steve Young led the NFL with a 97.2 passer rating in 1996, while Rich Gannon was named league MVP in 2002 after posting a career-high 97.3 passer rating and leading the Raiders to the Super Bowl.
Asked Tuesday about his comfort level with Trestman, Cutler said: "It's a day-by-day thing. We're getting more and more comfortable. We're getting to know each other. It's not going to be something where we just jump in and we're hip and hip and we can finish each other's sentences. We're getting there. We're gaining each and every day and we'll see how it goes."
With Cutler in the final year of his contract, some have called this a make-or-break season for him.
"I'm not worried about those things," said the Bears quarterback. "Every year you put pressure on yourself. Every team in the NFL right now is preparing to win the Super Bowl, and we're doing the same thing. We just have to learn this offense and defensively they keep playing at a high level, and hopefully we'll win some games."
While certainly aware of the lucrative deals that NFL quarterbacks Joe Flacco and Tony Romo have signed this offseason, Cutler isn't dwelling on his own contract situation.
"There are some big numbers being thrown out there," he said. "[But] you can't get ahead of yourself. You've got to win games to earn those contracts. I'm in my last year obviously. We'll play it out and see how it goes."