Jay Cutler was still hurting last Sunday, but that didn't stop him from passing for 281 yards and two touchdowns in a 22-20 win over the Oakland Raiders.
The Bears quarterback returned to action after missing just one game with a hamstring injury that most outsiders expected to sideline him for a minimum of two weeks.
"The first thing I learned was how tough he was," offensive coordinator Adam Gase said this week. "For him to go out there and perform the way he did, I don't know if I've been around a performance like that as efficient as he was, to fight through what he had going on."
Head coach John Fox was also impressed with how Cutler battled through his hamstring injury to lead the Bears to their first victory of the season.
"The mental and physical toughness it takes to speed something like that up, deal with it, go out and perform like he did under that duress ... is pretty admirable," Fox said.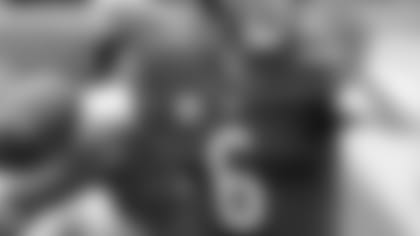 Jay Cutler passed for 281 yards and two touchdowns in a 22-20 win over the Oakland Raiders in Week 4.


The Bears are clearly a different team with Cutler under center. In the six-plus quarters he missed due to the injury against the Cardinals and Seahawks, the offense did not score a touchdown on 19 possessions.
"Having him in there, we're just so confident because he's our guy," said offensive lineman Matt Slauson. "We have full belief in him. He played lights out [against the Raiders] and we know that he can do that every week, so when he's in there it just juices us all up."
Slauson wasn't surprised that Cutler missed only one game.
"He's a beast," Slauson said. "I don't know what it is. I just know he works his tail off. The couple times he's been hurt, the amount of work he puts in to get back, it's just constant. It's a testament to what a great pro he is."
Cutler explained why he has gained a reputation as a "quick healer."
"I don't like the training room," he said. "I want to get in there, do as much as possible and get out as quickly as possible. I want to be back on the field, back playing, so that's kind of my mindset. I tell the trainers, my first day in there, 'I'm not going to be in here long. We are going to accelerate this because I want to get back to playing.'"
With the Bears trailing the Raiders 20-19 with 2:05 remaining, Cutler marched the Bears from their own 20 to the Oakland 32 to set up Robbie Gould's game-winning 49-yard field goal with :02 left. Cutler completed 5 of 8 passes for 41 yards to four different receivers on the drive.
"In our locker room, we believe in Jay," said outside linebacker Sam Acho. "At the end of the day, people on the outside may have different things to say, whether it's Jay Cutler or any other person on our team. But we believe in him.
"He's our quarterback. He's our leader. We follow him and we've seen him do this time-in and time-out, and so we weren't surprised at how he finished the game. That's who he is as a player, who he is as a quarterback, who he is as a man.
"This guy wants nothing more than to win games, and so to be a part of that, to have that guy at the helm, it's a positive."
Preparing for Sunday's game in Kansas City, Cutler said he's feeling better and expects to be more mobile than he was against the Raiders, but still is "not exactly where I want to be."
"I kind of had the mindset going into [last weekend's game] I was going to stay in the pocket and just work from there," Cutler said. "Even when I stepped up a few times and threw it, my mindset was, 'Just get rid of the ball and let these guys do it.'
"This week I think I'll be able to move around a little bit more. We still want to stay in the pocket and deliver the ball from there. But if I've got to get out, I think I can get out."