Sitting in his Halas Hall office, Joe DeCamillis has his playbook in his hand and film on his computer screen. The Bears' special teams coordinator is always looking to improve his unit, a group that has seen major changes – even since the regular season began. His hope is that finding one small thing while reviewing the tape can lead to a big improvement for the team's kickoff, punt, field goal or coverage teams.
Earlier this week, DeCamillis took some time off from reviewing tape to talk with ChicagoBears.com about all the changes to his group, the players he looks to lead the special teams and how Chicago's weather may impact the kicking game.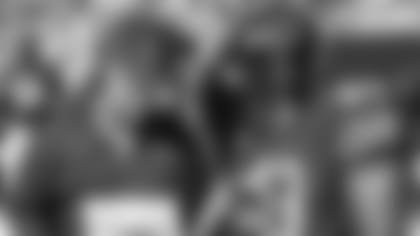 Joe DeCamillis goes over plays with Darryl Sharpton on the sideline.
What challenges have you faced dealing with all of the roster shuffling the team has undergone this season?
Well, I mean, luckily I've been in the league for 26 years, and I think I've been doing this for 21 years, so you draw from experience. I don't know that I've ever seen this much turnover (on a roster), but I have seen some turnover. So you just try to just draw from experience and really try to get the young guys coached up as quick as we can. Duane Stukes has really helped out in that respect, while I'm game-planning he'll be working with the younger guys, so it's been a good learning experience for both of us.
How do you get a newly-signed player caught up, especially if they are not used to playing on special teams?
It's a challenge. You want to try to watch as much tape as possible with them, walk-throughs and then the actual reps during practice, and then you have to get them ready to go during the game. It's really one-on-one coaching. You want them to see it on film, then you want to take it in a slower pace, and then you want to take it to the field and a faster pace in practice. And then, ultimately, into the game.
Another new player you've had to work with is rookie punter Pat O'Donnell. Where has Pat improved since you drafted him in May to today?
I think Pat has really improved. I think a lot of that has to do with Robbie (Gould), he's helped us out with Pat tremendously. Robbie has been around some good kicking coaches and I think he's really helped out in that respect. Plus, Pat was a talented guy in college and he's bringing that talent to the forefront now. He's just had some unfortunate plays – for him really. The block against San Francisco which wasn't his fault and the long return against Carolina really wasn't his fault. He had a great punt on that particular one. So he's had some bad luck, and hopefully that's fixing to change.
As the special teams coach, you are dealing with both offensive and defensive players. Is that something you embrace, dealing with players from all different position groups?
I think it's a positive, because you can touch the whole team. And you get to know all the players too, so you have to have the ability to build relationships with them, and hopefully I can do that. Also, the other thing about it is you have to know all the personnel; different positions. What makes them successful at their position and what's going to make them successful at the positions I'm going to ask them to do.
Because you draw from both sides of the ball, is it difficult to establish leaders of the special teams unit? Who would you say those leaders are for the Bears?
I would say there are two guys for us. Danny McCray is the first one, he's been around it the most. He is a guy who I had in Dallas and is a guy I trust completely and he's brought the same type of leadership skills here. And then Robbie, which is unusual for a kicker to have the kind of leadership he has around the room. But he's done a good job there also.
How important are leaders to work as an extension of the coaching staff on the practice field or in the locker room?
It's huge. You know they have bought in with what you're teaching them and what you're telling them and all the principles you are trying to them. And the second thing is, if I'm not there, they are going to be able to get that message across. It's not going to be different, it's going to be the same message, which helps.
The kickoff return game hasn't been great this season. What can be done to improve that aspect of the unit?
I think, you watched it (versus the Dolphins) there was improvement, big improvement. So I just think it's getting reps, like it is with all the other groups. Unfortunately because of the rule that's been instituted about kicking off from the 35-yard line, you don't get as many opportunities, so you're not going to get quite as good as a team as you'd like. But I think with the colder weather coming up, we should be able to get more opportunities.
That leads into my next question: How does the weather changing play a factor for the special teams?
The ball is not going to travel as far, so the coverage is going to be more of a challenge. The same thing in the return game, when you flip it, the ball's not going to travel as far so you're going to get more returns. So that's the biggest issue right there. And then knowing how to handle the wind, knowing how to handle the ball that's not going to travel as much, our guys have to have a great feel for that.
Through seven weeks, what would you say of the special teams' performance?
I think it's been constant improvement. I think that some of the problems that we had early on were due to youth and unfortunately we had some plays that happened that we'd like to have back. But I think the overall effort and the overall chemistry and the overall talent has improved and I think it will continue to improve as the year goes along.