The following is the final of 10 stories featuring Bears coordinators and position coaches.
Like most NFL coaches, Joe DeCamillis feels fortunate to have a job he loves. But unlike most of his peers, the Bears' first-year special teams coordinator is lucky to be alive.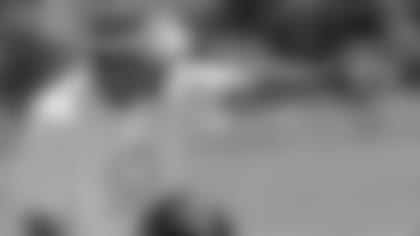 Joe DeCamillis feels fortunate to have a job he loves. But unlike most of his peers, the Bears' first-year special teams coordinator is lucky to be alive.
DeCamillis was working in the same role with the Dallas Cowboys on May 2, 2009 when the roof on the team's practice facility came crashing down during a storm. DeCamillis, who was coaching a drill during rookie minicamp, suffered broken vertebrae in his neck that required surgery.
Although he remained in the hospital for eight days, DeCamillis was back on the practice field a little more than two weeks after the accident, wearing a neck brace and shouting into a bullhorn.
Three years later, DeCamillis is still reminded of the accident on a daily basis.
"Physically I still deal with it today," DeCamillis said. "I have a pretty good deal of pain that I deal with and a lot of numbness. But I'm moving around a lot better than they thought I was going to. It's a blessing, no question about it."
Due to the discomfort he experiences when lying down, DeCamillis still sleeps in a recliner. But you won't hear him complain, especially when his good friend, Cowboys scouting assistant Rich Behm, suffered a severed spine, paralyzing him from the waist down.
"I have a bunch of rods in my neck," DeCamillis said. "It's painful, but I'm walking. I shouldn't be walking. It's just a blessing. I'm happy to be here, but the recovery was tough. If I had to do it over again I don't know that I would have gone back that quick. They told me, 'you're not going to coach this year, you may never coach again,' and I was back on the field within 17 or 18 days.
"I still sleep in a chair. But if that's the worst thing that happened out of this deal, I'm in pretty good shape. A good friend of mine sleeps in a chair too. It's called a wheelchair, so I'm fortunate."
The ordeal DeCamillis went through reaffirmed his priorities and provided perspective.
"It really focused me again on what was important: my faith, my family and football," he said, "and that really was what kept me going."
DeCamillis is grateful for the care he received from his wife, Dana, and their daughters, Caitlin and Ashley. Dana is the daughter of former NFL player and head coach Dan Reeves.
"She had to basically be my nurse for a long period of time," DeCamillis said. "She took care of me. She's the one who got me back and I love her to death. She's a football lady anyway. She's been in it her whole life, not 20-some years like I have."
DeCamillis also greatly admires his father-in-law, whom he coached under for 16 NFL seasons with the Broncos (1988-92), Giants (1993-96) and Falcons (1997-2003).
"He taught me how to do a lot of things that I do to this day," DeCamillis said."More than anything else, he taught me to respect players and to know how to get the most out of players.
"I haven't worked for him for 10 years. When I first started I always kind of coached out of fear because I never wanted [critics] to say, 'He got the job because of Dan Reeves.' So I wanted to make sure I didn't screw anything up. Really that was more prevalent than anything else."
As DeCamillis enters his 26th consecutive season as an NFL special teams coach, he prefers to forget about the accident that nearly took his life and concentrate on the task at hand.
"I hope people don't talk about it as much," DeCamillis said. "In Dallas it was hard because that's where it happened. I'm hoping we can move forward from that. I just want to coach ball. That's really my focus. I'm going to help Marc [Trestman] all I can and hopefully that means we get a bunch of wins for the Chicago Bears."