Speaking to the media Monday at Halas Hall, Phil Emery took responsibility for the Bears' disappointing 3-5 record and vowed that the team would learn from its mistakes and stick together.
"We are what our record states," said the Bears general manager. "The NFL's about winning games and we deserve the criticism that we have and should have from that record.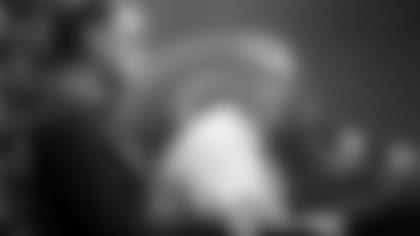 Marc Trestman and Phil Emery spoke to the media Monday about the Bears' 3-5 start.
"I'm extremely disappointed where we're at as a football team right now, and that disappointment starts with being extremely disappointed for our fans. They, like us, held high optimism for the start of our season and where we would be at that midpoint and we've let them down in that regard.
"We understand and share their frustrations and clearly understand our failures at this point. We're responsible for our current record and that responsibility starts with me."
Although the Bears aren't where they expected to be at the midpoint of the season, Emery stressed that there are still eight games left for them to prove what type of team they can be.
"The season's a full year and the only way we're going to get back on track is to learn from our mistakes, correct our errors, find solutions and stick together as a team through this process," Emery said. "We will not quit on the season. We will not quit on ourselves. We're not going to quit on each other.
"The only way through this to get back on the right track, on a positive track, a winning track to win football games is to stick together. The solutions to win games are in this building with the people in this building."
Echoing that last point, coach Marc Trestman said that he doesn't intend to make any changes to his staff.
"We have everybody in position right here," Trestman said. "We feel, without question, we built a work ethic. A system of doing things in this building is in place to have the consistency we need to win. We're disappointed because we haven't done that. We're 3-5. It's not good. We understand that is not a good situation. But we do feel we have the foundation to build from here, and that's the next step."
As the Bears enter their bye week, areas they will target include: 1) Improving their turnover margin; 2) Becoming more balanced on offense; 3) And doing a better job with match-ups on offense and defense.
In starting the season 2-1, the Bears were plus-four in turnover margin with eight takeaways and four giveaways. But in losing four of their last five games, they're minus-seven with four takeaways and 11 giveaways.
That includes minus-five in their last two contests with no takeaways and five giveaways in losses to the Dolphins and Patriots. It's the first time the Bears have failed to generate a takeaway in back-to-back games since 2010.
"Our turnover margin is not what we want it to be," Trestman said. "That goes to creating turnovers on the defensive/special teams side of the ball, which we haven't done over the last couple of weeks, and then continuing to take care of [the football]."
The Bears are also seeking more balance on offense. They are currently tied for seventh in the NFL in passes per game (37.4) while ranking 27th in rushing attempts per game (23.5).
"We've got to do a better job with the balance in our football team," Trestman said, "particularly on the offensive side of the ball with the run and the pass because when we do that we seem to be able to do a much better job of moving the football the way we like it."
"We have to achieve a better run-pass balance," Emery said. "When you have a better run-pass balance, you keep your opponents off balance and you have a chance to hit big chunk plays like we've had them hit against us."
The Bears will also spend the bye week studying ways to put their players in the best position to succeed.
"We've got to do a better job with our match-ups; finding the right match-ups offensively in terms of getting all of our players the opportunity to get the football in the manner that we would want them to," Trestman said. "And making sure we do the same defensively; getting matched up on the right guys."