In a Q-and-A Tuesday with fans on ChicagoBears.com, general manager Phil Emery discussed the Bears' coaching staff, the team's cohesiveness and the performance of quarterback Jay Cutler.
With the Bears losing three of their last four games to fall to 3-4, Emery was asked about the future of head coach Marc Trestman and defensive coordinator Mel Tucker.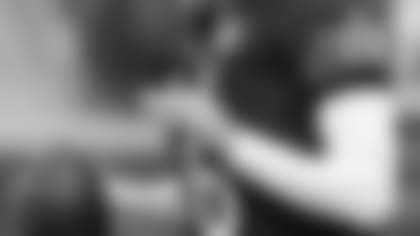 Jay Cutler has passed for 1,866 yards with 14 touchdowns, 7 interceptions and a 94.4 passer rating in seven games this season.
"Obviously no one inside or outside of our organization is happy with our current record," Emery said during the 90-minute session. "We are a 3-4 football team and as it has been said you are what your record states. We're below the line as a football team right now. But I have complete trust and confidence in everybody in our organization moving forward."
The Bears hope to rebound from last weekend's disappointing loss to the Dolphins Sunday when they visit the Patriots in New England. Earlier this season, the Bears followed a home loss to the Bills with a road win over the 49ers and later beat the Falcons in Atlanta to snap a two-game skid.
"Our goal is to prove we can bounce back once again, win a football game, get to .500 and move forward on our goals," Emery said. "Our team and our coaches have repetitively shown us that they have the physical and mental toughness to bounce back from adversity to win football games."
"We've been in a hostile environment and bounced back after coming off a defeat [twice] this season. I have complete confidence in our team's ability to do that this week against the Patriots, and now it's up to all of us to accomplish that task.
After last Sunday's loss to the Dolphins, receiver Brandon Marshall was overheard by reporters loudly venting in the Bears' locker room. But Emery insisted there's no issue with team unity.
"I see our team as a family," Emery said. "As with all families, there are a lot of varied personalities and how individuals handle challenging and controversial times.
"All of us in our organization understand that Brandon Marshall is truly a great player. He cares more about others than himself. He's shown consistent leadership helping others and is a very important member of our team. The fact that he expressed himself verbally in a loud way after a tough loss does not disrupt us in our goals or our togetherness in achieving those goals."
Emery described the Bears' chemistry as "very positive."
"I know in our meeting rooms that our players and coaches hold themselves accountable for where we're at as a team and what we need to accomplish moving forward," Emery said. "They are making every effort to continue to make progress toward winning football games. I regard this team as family and we're a family that's very tight-knit and communicate well with each other.
Emery also defended quarterback Jay Cutler and his 42-32 record as a Bears starter.
"Jay Cutler is a winning quarterback in this league and no matter how you analyze the history of quarterbacks in the NFL, if you have a winning record you are an elite player at that position," Emery said. "I'll say it again: Jay has enormous skills and he continues to improve in all areas as a football player. I know he has some throws he would like to have back, but all of our players have had plays that they would like to have back."
Asked specifically about Cutler limiting his turnovers, Emery said: "No. 1, turnovers are never on one person. No. 2, it's just a matter of being more consistent with his reads and execution with everybody involved. We've certainly seen Jay make progress as an overall player, a communicator and a leader. All of us are 3-4 right now and it's on all the individuals in our organization—players, coaches and staff—to continue to put our full efforts to win games and advance toward our goals."