Bears general manager Phil Emery kicked off the team's voluntary minicamp Tuesday at Halas Hall by discussing next week's NFL Draft during a 30-minute press conference.
Emery, who indicated last month that the Bears would consider moving down from the 20th spot in the first round to acquire additional picks, revealed that the team is involved in trade discussions.
"We've already had a couple teams that have approached us," Emery said. "I approached a couple during the owners meetings. There are talks. They're back and forth. They're kicking things around. [But] it doesn't get serious until you get close to the pick."
If there is a trade, it likely will happen when the Bears are on the clock next Thursday night. The team has only five picks after trading away selections in the third and seventh rounds last year for receiver Brandon Marshall and defensive tackle Brian Price, respectively.
"We've had discussions and we'll see how it goes," Emery said. "It depends on whether our player is at that spot and we feel like he has the value that we won't want to move out of the pick or whether [another team's] player is at that spot."
Emery won't put a limit on how far the Bears will trade down.
"If somebody's going to wow us—I'll just throw an arbitrary number—at 34 and we feel like that's going to bring tremendous value to us and help upgrade our club significantly, we'll go there," he said. "We're not adverse to any scenario as long as we see positive value out of it."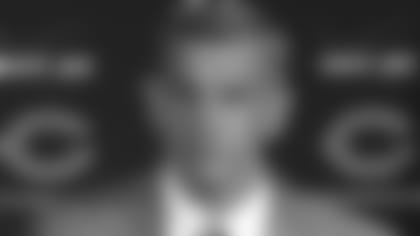 At Tuesday's minicamp, Phil Emery discussed the team's priorities heading into the NFL Draft.
Emery conceded that with just five picks the Bears aren't as likely to trade up as they were last year when they dealt a fifth-round selection to jump up five spots in the second round to take receiver Alshon Jeffery.
"That's where moving back is more attractive than moving forward," Emery said. "But if we know the guy we really targeted that could make a significant difference for us is sitting in front of us one pick and the team in front of us is looking at the same guy and the same position, would I pull the trigger? Absolutely."
Emery said that signing 11 free agents from other teams—most notably left tackle Jermon Bushrod and tight end Martellus Bennett—will give the Bears "a lot more flexibility" in the draft.
"It allows us to look at all the positions for each and every pick," he said.
In preparing to select at No. 20, the Bears will create a want-list of two or three players who most likely will already be off the board but could fall to them, five or six prospects they would feel comfortable taking at 20, and four or five they would trade down to select.
If possible, Emery would like to pick a quarterback at some point in the draft—and that has nothing to do with Jay Cutler entering the final year of his contract.
"Jay's contract status doesn't impact it," Emery said. "I'd like to draft a quarterback every year, if we could find the right quarterback. Those are very valuable in terms of the position. I don't see that you can have a winning franchise and a championship franchise without a high-quality quarterback, so you have to give yourself as many chances as possible. If we could find a quarterback every year and we have the picks to do that, we would do that."
The Bears aren't radically changing the types of players they're seeking in the draft to conform to the new coaching staff's schemes.
"The most important thing we feel is to get high quality football players that can help us win games," Emery said. "So I would say those parameters haven't changed in a great degree. I would say that we are not necessarily system-specific. We want players that transcend schemes."
Emery pointed to last year's first-round pick, Shea McClellin, as an example. Some NFL analysts criticized the Bears for drafting him because they felt he was a better fit in a 3-4 defense.
"Those are the best players to get; [ones] that have the most flexibility," Emery said. "The reason Shea is an important player and the reason we picked him [at No. 19] is because he has versatility as an athlete. He can do a lot of things. We're looking for those type of players; players that are high-end dynamic athletes that can do a lot of things."