After signing a lucrative three-year extension, Brandon Marshall thanked more than 50 people who have impacted his life during an emotional press conference Thursday at Halas Hall.
But the Bears Pro Bowl receiver wasn't the only one who expressed gratitude at the gathering.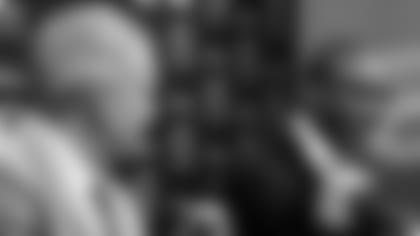 General manager Phil Emery looks on as Brandon Marshall address the media Thursday at Halas Hall.
"I want to thank Brandon for accepting our proposal and for the extension," said Bears general manager Phil Emery, who shared the stage with Marshall. "We're very proud that he's going to remain a Bear for now and to the future. He's a special player and a teammate."

No one appreciates the growth that Marshall has made as a player and a person more than Emery, who first scouted the star receiver a decade ago when he was a defensive back in college.

"I remember watching Brandon at Central Florida as a safety just thinking, 'Who is this big guy out here at 6-foot-5-plus, 225 or 230 pounds' that he was at the time playing safety," Emery said.

"And then seeing this transformation to a wideout, and then catching back up with him during this process of trading for him, going back and looking at Miami playing Kansas City and just seeing this incredible athlete catching the ball, the savvy for a man that size, the run-after-the-catch ability was off the charts and just his ability to run routes and to drop his weight."

Emery continued, talking about "looking out the window [at Halas Hall] and seeing Brandon run full-speed routes and just being amazed that a man his size can drop his weight the way he does and the precision and professionalism that he works and grinds at getting better as a player."

Marshall's tremendous talent has never been in doubt. But when Emery dealt two third-round draft picks to the Dolphins to acquire him in March 2012, the receiver arrived with character concerns stemming from multiple brushes with the law.

In the 16 months since the blockbuster trade, Marshall has been a model citizen on and off the field, rewriting the Bears record book and becoming a team leader in the locker room.

"This is a man that has grown every day," Emery said. "Every time we have a conversation and engage each other, I just see his growth as a person. I see a very thoughtful, engaging, giving person; somebody that reaches out to others and through reaching out to others has grown himself."

Marshall revealed that he approached the Bears last year about a contract extension, but Emery told him that it would have to wait until 2014.

"He was honest," Marshall said. "Actually, I wanted a contract last year and he told me, Brandon, we couldn't do it. He told me the game plan and he stuck to it. He probably started talking in March. It was tough at times, but I learned a lot through it. I grew as a man and now I'm here."

The contract extension, Marshall said, is mostly about security and leaving a legacy.

"That's the thing I'm most thankful for, is that you walk into Halas Hall and see all the greats-the coaches, the players-and I think it's a privilege to play here and I think it's an honor," he said.

"You could be drafted by 31 other teams or you could be on 31 other teams. But it's very rare that you come to a place like this-a city, an organization-with all of the right people, so that's what I'm thankful for."