Bears general manager Phil Emery praised Lovie Smith on Wednesday while also denying an erroneous radio report that the team has been negotiating a contract extension with the coach.
Asked to shed light on the report while speaking to the media for the first time since the start of the regular season, Emery said: "That's an interesting word, light, because I kind of took it light-hearted when I heard it.  I said, 'Geez, even if that was true, when would we have gotten that done?'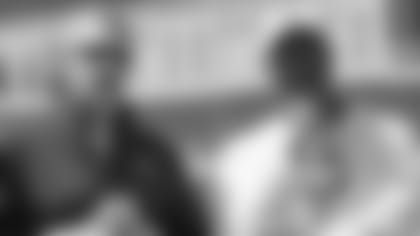 General manager Phil Emery is pleased with the job that coach Lovie Smith has done so far this season in leading the Bears to a 4-1 start.

"Coach Smith is very focused on improving this team on a daily basis [with] all the things that he does.

"In terms of myself, my mindset is with the personnel group and working with the coaches and making sure we have the right people on the roster on a daily basis, going out to colleges, doing visitations, getting ready for the next NFL draft. There are not enough hours in a day to have those kind of conversations, and that's pretty much where we're at."

Emery reiterated that he prefers to conduct negotiations after the season ends. It's a philosophy that applies to Smith, whose current deal runs through the 2013 campaign, as well as players.

"I said this at the beginning of the [training] camp: My preference is to do these things at the end of the year," Emery said.

"There may be a situation where it's to the club's advantage and the player's advantage to do something during the season. But my preference and most often it's better to wait until the end of the year until you have a full evaluation and moving forward with that. That applies not only to our players but to our head coach and our coaching staff."

Emery is certainly pleased with the job that Smith has done. Locked in a tie with the Minnesota Vikings for first place in the NFC North at 4-1, the Bears will return to action following this weekend's bye a week from Monday night when they host the Detroit Lions.

"I'm concerned about each and every one of our players continuing to improve," Emery said. "I think that's a real key here coming off the bye is how we come and attack Detroit and we work through this mid-part of the season one game at a time.

"All of us need to continue improving, and that's where I've been really impressed with coach Smith. He takes great ownership for this team. He keeps pushing all the right buttons, not only coaching his players and interrelating with his players but coaching his coaches and working with us in personnel."