INDIANAPOLIS — Bears general manager Phil Emery is very pleased with the staff that first-year head coach Marc Trestman has assembled.
"They are an excellent group of teachers," Emery said at the NFL Scouting Combine. "I'm excited to see them work on the field with our players. Obviously the expectations with any coach you hire, whether it's a head coach or an assistant, are that you are going to work with the player so he achieves the highest level of production that he can.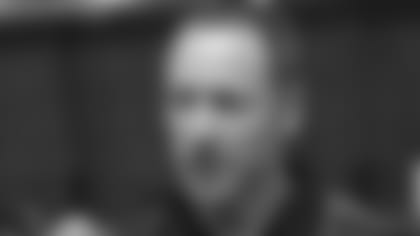 Bears offensive coordinator Aaron Kromer helped five linemen develop into Pro Bowlers during his tenure with the Saints.
"I'm very excited about this group. There are a number of very intelligent, skilled teachers of the game of football."

Trestman's three coordinators—Aaron Kromer (offense), Mel Tucker (defense) and Joe DeCamillis (special teams)—are well-respected coaches who boast a combined 45 years of NFL experience.

The Bears' position coaches include holdovers Mike Phair (defensive line) and Jon Hoke (defensive backs) and newcomers Matt Cavanaugh (quarterbacks), Skip Peete (running backs), Mike Groh (receivers), Andy Bischoff (tight ends) and Tim Tibesar (linebackers).

From 2001-03, Kromer worked on the same staff as Trestman with the Raiders, including in 2002 when Oakland led the NFL in total offense and reached the Super Bowl.

Kromer, who will double as offensive line coach, spent the past five seasons with the Saints, coaching running backs in 2008 before working with the offensive line/running game from 2009-12. In his four seasons tutoring the line, New Orleans sent five linemen to a combined nine Pro Bowls and tied for the fewest sacks allowed in the NFL with 96.

Tucker spent the last five seasons as defensive coordinator with the Browns (2008) and Jaguars (2009-12). He served as Jacksonville's interim head coach for the final five games of the 2011 season and returned as defensive coordinator on Mike Mularkey's staff in 2012 while adding the title of assistant head coach.

DeCamillis has spent the past 25 years as a special teams coordinator with the Broncos (1988-92), Giants (1993-96), Falcons (1997-2006), Jaguars (2007-08) and Cowboys (2009-12).

DeCamillis interviewed with Emery for the Bears' head-coaching position, but was not among the three finalists. The two men worked together with the Falcons from 2004-06.

"It was an excellent interview," Emery said. "He's a very detailed, well-prepared individual. We sat down and he had an iPad ready for me and an iPad ready for himself, and he said 'I'm ready to go.'

"I had to slow him down a little bit. I wanted to revisit with him. We had worked together and I knew him very well. But I wanted him to take me back through his career and then we moved forward with the things that he had presented. He had an excellent interview."

When special teams coordinator Dave Toub opted to leave the Bears for the same position with the Kansas City Chiefs, Emery was thrilled to land DeCamillis as Toub's replacement.

"I was extremely surprised and felt very good that we were able to get him on the staff," Emery said. "We had lost Dave; he had moved to the Chiefs. I interviewed 'Joe D' for the head-coaching position, so I felt very good about him as a coach and am glad to have him."