While some NFL executives have voiced their displeasure about this year's draft being held two weeks later than usual, Bears general manager Phil Emery is not among them.
"I love it, honestly," Emery said. "I've heard reports of people complaining about it. I don't know what they're complaining about. This is the juice in the personnel cycle. This is where the fun is."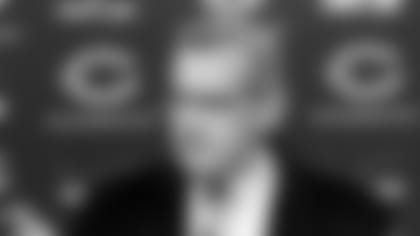 Phil Emery thinks that the two extra weeks before the draft are beneficial to the Bears.
The draft was scheduled for May 8-10 rather than late April due to a conflict at Radio City Music Hall in New York. Interestingly, the event that necessitated the move was canceled in March.
Emery said that the extra two weeks has been "very beneficial" for the Bears.
"It's allowed us to have less rushed conversations and to look at things from all different angles and to think future and now and to have those conversations and to come back and revisit and to try to look at fitting this piece of the puzzle from all different angles," Emery said.
While evaluating prospects, Emery isn't concerned about the Bears overthinking—or what some refer to as "paralysis by analysis."
"You feel about the players how you feel about it," he said. "It's working the plan, finding the best way to use this part of the year to fill as many needs that you have and to add as many dynamic players that you can that will help you now and in the future.
"So, no, it's not about overanalyzing players. It's about working your plan and having more time to do so, which I think is very beneficial and really has been an enjoyable process."
Working the phones: The Bears are spending the final week before the draft reaching out to prospects they'd be interested in signing as undrafted free agents.
"That takes a lot of work," Emery said. "There are a lot of phone calls. A lot of thought goes into that process in trying to find interconnections with those players. You want to stay in contact with them as much as you can in terms of: 'Do we have your right number? Just want you to know that you're in our plans. And good luck in the draft.'"
Last season three undrafted rookie free agents made the Bears' 53-man roster: Running back Michael Ford, defensive tackle Zach Minter and cornerback C.J. Wilson.
"The planning takes a lot of work," Emery said. "To have a good class of rookie free agents takes a lot of work post-draft by everybody in the building and we've had some success."
Cornering the safety market: Emery revealed that the Bears have scouted some cornerbacks in the draft with the intention to possibly convert them into safeties.
"We've looked at every corner that has length as a possible safety," Emery said. "We've looked at them as a scouting staff and I reassigned them again to go look at that equation. I asked our coaches to do that, and I continue to give them lists for players to look at their position versatility.
"The problem is you have to project. To take a college corner and make a safety out of him, that's a big jump. You have to feel the player has the intelligence to do it; more importantly that he has the instincts to do it."
The Bears attempted to transform 2012 third-round pick Brandon Hardin from a college cornerback into an NFL safety. But that experiment failed and Hardin was released without ever appearing in a regular-season game.
"I put Brandon in a position he couldn't succeed, and that's on me," Emery said. "I said that at the end of the year. If it's a fifth- or sixth-rounder and it's someone that has dynamic suddenness and size, that's a little bit different story than somebody higher in the draft.
"But we have looked at them from all angles because there is a drop-off in terms of perceived level of ability between the first few safeties in the draft and the next grouping. Out of necessity, we have looked at them from all different angles in terms of their positional flexibility."