The following is the first of eight position previews in advance of the May 8-10 NFL Draft:*
Who are the best quarterbacks in this year's draft? It depends on who you ask.
"I've never seen a bigger variety of opinions from teams on who the top quarterbacks are—and there are more potential starting quarterbacks that go deeper in the draft this year," NFL Network analyst Mike Mayock recently told USA Today.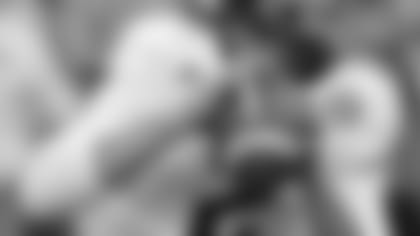 Johnny Manziel
The most polarizing player in the draft may be Texas A&M quarterback Johnny Manziel. Some see the 6-foot, 210-pounder as an electrifying impact player who possesses unique athleticism, playmaking skills and moxie; others don't feel his flashy style on and off the field will translate to the NFL.
Longtime draft guru Gil Brandt ranks Manziel as the top prospect in the entire draft, while NFL Network analyst Brian Baldinger predicts that "Johnny Football" will fall all the way to the Browns at No. 26. ESPN's Mel Kiper Jr. projects that Manziel will be selected fourth overall by Cleveland.
"Manziel is not my top-rated QB, but he is the QB I believe (right now) is likeliest to go [as high as No. 4]," Kiper writes. "I believe a team like Cleveland, with a number of draft assets and a QB on the roster it feels can create a bridge to a young starter, is in a good scenario to take a chance on Manziel's ceiling."
Manziel became the first freshman to win the Heisman Trophy in 2012 when he passed for 3,706 yards and 26 touchdowns and rushed for 1,410 yards and 21 TDs. Last season he threw for 4,114 yards and 37 touchdowns and ran for 759 yards and nine TDs.
Manziel is described by NFL.com as a "once-in-a-generation, run-around, ad-lib, sandlot-style quarterback who consistently won games playing a brand of fast-paced, jailbreak football that often goes off script and can be difficult both to game plan with and against."
After Manziel, Mayock ranks Central Florida's Blake Bortles as the second best quarterback in the draft, followed by Louisville's Teddy Bridgewater and Fresno State's Derek Carr.
Kiper predicts that Bortles will be selected by the Vikings at No. 8, writing: "I do believe Bortles has a high ceiling because he's a pretty special athlete with some really good instincts for the position; his pocket movement in particular is really impressive. When you consider his development trajectory, there's a lot to be excited about."
Last season Bortles passed for 3,581 yards and 25 touchdowns after throwing for 3,059 yards and 25 TDs in 2012. Brandt ranks the 6-5, 232-pounder as the eighth best prospect in the draft, writing that "he has great upside but needs to work on his footwork and mechanics."
According to NFL.com, Bortles "possesses ideal size, athletic ability, intangibles and enough arm strength to develop into an upper-echelon quarterback." It also states that he "is not yet a franchise quarterback, but has all the physical ingredients to become an outstanding NFL starter and his arrow is very clearly ascending."
Some analysts were projecting Bridgewater as the possible No. 1 overall pick early in the offseason, but the Louisville quarterback's stock dropped after a lackluster Pro Day performance.
Kiper predicts that Bridgewater will be selected with the first pick—in the second round by the Texans, writing: "This is the top-rated quarterback on my Big Board, a player I have rated higher than Bortles, Manziel or Carr. But my reading of the tea leaves in speaking with many evaluators around the league is that Bridgewater could drop if he slides past a couple of points early on."
In 2012, Bridgewater passed for 3,718 yards with 27 touchdowns and eight interceptions. Last season he threw for 3,970 yards with 31 TDs and just four interceptions.
While Bridgewater's stock has dropped, Carr's has seemingly headed in the opposite direction. Kiper predicts that the Fresno State quarterback will be chosen by the Cardinals at No. 20.
Carr, whose brother David was selected by the Texans with the No. 1 overall pick in 2002, passed for 5,082 yards with 50 touchdowns and eight interceptions last season.
NFL.com describes the 6-3, 218-pounder as an "athletic, tough, instinctive, strong-armed, highly competitive quarterback" who "profiles like a gunslinger, though he'd be better served in the long run honing his game-management skills."
Other quarterbacks with starting potential in the draft include Eastern Illinois' Jimmy Garoppolo, Alabama's A.J. McCarron, Georgia's Aaron Murray, LSU's Zach Mettenberger and Pittsburgh's Tom Savage.
"Most teams feel the two top quarterbacks are Johnny Manziel and Blake Bortles," Mayock told USA Today. "But there are other guys in that conversation, and I've heard 10 quarterbacks get grades of first, second or third round."