When Leonard Floyd left Halas Hall after a recent pre-draft visit, the Georgia outside linebacker had a feeling he'd be returning to the Bears facility.
"I know that they were looking for a young linebacker, that they wanted a young linebacker to come in and fit in with the rest of the guys, and I felt like I was that guy," Floyd said during a telephone interview on the ChicagoBears.com Draft Central Show.
Floyd's hunch proved correct Thursday night when the Bears traded a fourth-round pick to the Buccaneers to move up two spots in the first round to select Floyd at No. 9.
"It surprised me that they traded up, but I knew once they had their turn pick there was no way they would pass me up," Floyd said. "I was very excited that they came up to pick me. That means that they see something in me, and I want to make sure that I come and prove myself the way I should."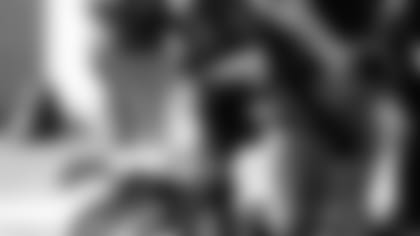 Outside linebacker Leonard Floyd on Georgia's pro day workout.


Unlike most of the players chosen in the first round, Floyd did not attend the draft in Chicago. The 6-6, 244-pounder opted instead to watch it on television with family members at his aunt's house in Atlanta. Floyd is due to arrive in the Windy City Friday afternoon and cannot wait to get there.
"I can't tell you how great I feel about being a Bear," Floyd said. "I'm looking forward to playing for the Chicago fans. I know they have a great fan base. Basically I'm just ready to perform for them."
Floyd possesses the intangibles that the Bears seek in all of their players.
"When you meet him and talk to him, he's such a genuine guy," said general manager Ryan Pace. "Football is really important in his life. At Georgia, there were times he sat in three different meeting rooms, which tells you about his intelligence. They were playing him in so many different roles.
"He has a natural charisma to him. [Bears 2015 first-round pick] Kevin White has the same type of charisma when he walks in a room. Leonard has that too."
Bears defensive coordinator Vic Fangio and outside linebackers coach Clint Hurtt are both eager to begin working with Floyd, who led Georgia in sacks each of the last three seasons with 6.5. 6.0 and 4.5.
"Vic likes this guy a lot; Clint Hurtt does, too," Pace said. "Both those guys are excellent coaches. It just gives me a lot of confidence when you bring someone like this in the building for them to further develop the player. In addition, this player has the right attitude and mindset for that. He's hungry. He's high energy. He plays with a lot of enthusiasm and passion. I think that all comes together."
Floyd's sack totals in college weren't as high as some other top draft prospects, something that Pace attributes to the way that Floyd was utilized in the Georgia defense.
"When you watch the tape, they move him all over," Pace said. "He's such a versatile athlete, so he's playing inside linebacker one snap and the next snap he's in nickel running down the field with a slot receiver. And then he's rushing. You see him at all these different positions. I think with him playing more of a pass rush position [with the Bears], he'll have more production."