Bears defensive coordinator Vic Fangio described Leonard Floyd's first NFL training camp last summer as "kind of choppy" after the first-round pick missed several practices due to illness and injuries to his shoulder and hamstring.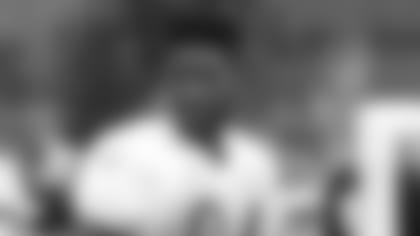 Bears outside linebacker Leonard Floyd feels he's practicing faster in his second season.


A year later it's been much smoother sailing for Floyd, who is benefitting from a healthy body and a year of experience under his belt. The outside linebacker has not missed a practice and is displaying the burst and explosiveness that helped convince the Bears to trade up to select him with the ninth pick in last year's draft.
"I've been practicing faster than last year just because I know the defense a little more," Floyd said Thursday. "I know what I can do and can't do within a call."
The difference in Floyd's performance on the field has been evident in camp.
"It's a reaction game," said coach John Fox, "especially on defense and when you know your assignment and know how you fit in certain blocks, how you fit certain protections, you know where you fit in coverage. Out there thinking, it's kind of paralysis by analysis. You get to cut loose and actually let your ability and reaction time set in and I think we've got a lot of guys in that boat."
Despite the choppy preseason last year, Floyd developed into a playmaker. In 12 games, he recorded seven sacks, scored a touchdown on a strip/sack of Packers quarterback Aaron Rodgers and produced a safety with a sack of 49ers quarterback Blaine Gabbert.
Floyd feels that he left some plays on the field, however, and believes that being more mature and calm this season will enable him to be even more productive.
"As a rookie I played jittery at times and missed a few sacks," Floyd said. "I'm going to make sure this year I don't miss any."
Helping hand: Young Bears receivers have been benefitting from the veteran leadership that Victor Cruz is providing on and off the field at training camp.
"The type of pro Victor is, he kind of exudes that," Fox said. "He has been there before, so the guys do look to him. Most of it's a lot of visual: how they work, what they do, how they take notes, how they conduct themselves in meetings, off the field how they take care of their bodies. All those are lessons that are good for all young players to see."
Cruz signed with the Bears in May after spending his first seven seasons with the Giants. He entered the NFL as an undrafted free agent from Massachusetts and developed into a star receiver on a Super Bowl-winning team.
It's that journey that makes him a role model and mentor to his young teammates.
"It's weird because whenever I give a coaching point or say something, it's like 'he's talking to us,'" Cruz said. "So it's a good feeling. I just want to make sure I'm telling them the right thing, telling them things that are going to help them, because I've seen every route in the book. I've seen every circumstance—a 6-10 team as opposed to a 9-7 team on the way to the Super Bowl. I've seen both sides to it."
Take cover: Lightning forced the Bears to cancel Thursday's practice and move inside where they held a walkthrough.
"It wasn't the rain; it was the lightning was pretty thick in the area, both for the players and the staff as well as the fans," Fox said. "The alarms went off about three or four times."
The Bears flip-flopped their schedule, replacing Friday's walkthrough with a padded practice, though the session will remain closed to the public.
Roster move: The Bears on Thursday swapped out one undrafted rookie running back for another, waiving/injured Joel Bouagnon and signing Joshua Rounds.
In 47 games over four seasons at Tulane, Rounds rushed for 1,168 yards and eight touchdowns on 226 carries, caught 40 passes for 288 yards and averaged 17.8 yards on 29 kickoff returns.
Bouagnon signed with the Bears in May as an undrafted free agent from Northern Illinois.