Although he has occasional lapses typical of a rookie, Bears first-round draft pick Leonard Floyd generally has been pleased with the progress he's making.
"I'm keeping up pretty good," the outside linebacker said Wednesday during minicamp. "I have a little brain fart every now and then, but other than that I've been doing pretty good."
In learning the playbook and his responsibilities on the field, Floyd has leaned on outside linebackers coach Clint Hurtt for guidance since arriving in Chicago.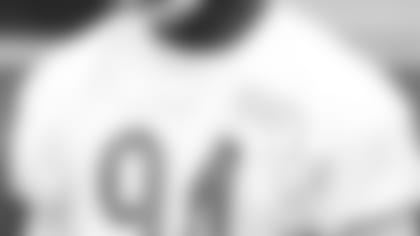 The Bears traded up two spots in the draft to select Leonard Floyd with the ninth pick.


"We connected Day 1, as soon as he introduced himself to me," said Floyd, who was selected by the Bears with the ninth pick in the draft. "We had a connection from that point on."
Floyd feels the same way about fellow outside linebacker Willie Young, a seven-year NFL veteran who has taken the 23-year-old rookie under his wing.
"Me and Willie talk all the time about pretty much everything, things he's learned from playing and things I can improve on that he used to do," Floyd said. "We kind of just connected. I guess he feels like I'm his little brother or something. He's always giving me some advice on things."
Floyd admires Young's tenacity and approach to the game, saying: "I just love the overall player. I just love his energy. He brings a lot of energy every day and he's just a work-hard player."
Floyd has enjoyed working with all the veterans on the Bears defense.
"I can tell that they all love each other," he said. "It's a brotherhood-type feel out there on the field with my teammates."
In practice, Floyd has shown the same traits and versatility that the Bears saw on his college tape.
"He's got tremendous athleticism," said coach John Fox. "We talked about that even in the draft process. He's very smart, has played a lot of different positions, understands the game and he has the skill set to do all parts of his job, both in coverage and as far as [pass] rush."
Floyd's need to add weight to his lanky 6-6, 240-pound frame remains a main topic of conversation. "I pretty much know it's going to be asked every time I step up the podium," he told reporters during a press conference.
Floyd revealed that he has "put on quite a few" pounds since joining the Bears and is confident that his speed won't suffer if he continues to bulk up.
"I believe I can add weight and still be as fast as I am," he said.
Bulking up should help Floyd add a power move to his pass-rushing repertoire.
"It definitely gives me another move to go to when my speed is not working," Floyd said. "It will definitely help me grow as an edge rusher."