According to Brian Urlacher, generating takeaways is not second nature to the Bears defense.
"No, it's first nature," he said. "That's how we are. We don't have a choice. If we don't strip the football, if we don't score when we catch it, we get a tongue lashing, so we have to do that."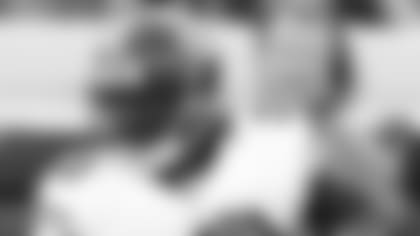 Charles Tillman returned an interception 36 yards for a TD in the Bears' 41-3 win over the Jaguars Oct. 7 in Jacksonville.
Urlacher isn't the only Bears linebacker who feels that way. Lovie Smith has emphasized takeaways to such an extent since he became head coach in 2004 that the mentality apparently has seeped into other aspects of Lance Briggs' life.

"Since Lovie has been here he's always preached this stuff, and it's ingrained," Briggs said. "I think I teach my kids how to recover fumbles and stuff like that every time they drop a bottle or a sippy cup. It's getting ridiculous."

That's a good way to describe what has transpired so far this year. The Bears are tied for the NFL lead with 17 takeaways and have become the first team in league history to score five defensive touchdowns in the first five games of a season.

"Coach Smith talks about getting the football out every day," Urlacher said. "He comes into our huddle and says, 'strip the ball, strip the ball.' If we catch it we score with it every day in practice. It's just the mentality around here. That's how he was from Day 1 when he got here.

"[Defensive coordinator] Rod [Marinelli] was the same way when he got here, and that's how we think about it. We always think about getting the football out. We don't always get it out, but we think about it all the time."

Since Smith became coach, the Bears lead the NFL with 283 takeaways.

Briggs and cornerback Charles Tillman have become the first teammates in NFL history to return interceptions for touchdowns in back-to-back games. In Jacksonville, Urlacher broke up a pass that deflected off Maurice Jones-Drew. Briggs picked it off and brought it back 36 yards for a TD.

"Of course there's a little bit of luck, but a lot of that stuff really comes just from playing hard," Briggs said. "If I'm not running to the ball when the ball is tipped in Jacksonville, there is no interception. So it's about how we play the game. If you play the game hard, there are some opportunities there. Just don't miss the opportunities."

The Bears lead the NFL with 13 interceptions, but Briggs feels the defense could have more. Briggs dropped a sure pick in a Week 2 loss in Green Bay and there have been other near misses. The unit is taking advantage of most of its chances, however.

"In years past we've done a missed opportunity tape where if we would have caught the ones thrown to us we might have led the league in turnovers," Briggs said. "So it really is about catch the opportunities when they come, when they arise, pick the fumbles up, grab the fumbles. When the ball is thrown and you have your hands on it, catch it."

All five of the Bears' defensive touchdowns have come in their last three games. Briggs and Tillman have two TDs apiece, while safety Major Wright has one. During that span, the defense has allowed only two touchdowns in wins over the Rams, Jaguars and Cowboys.

"It's fun when guys score," Urlacher said. "It's an emotional thing. It gives us a boost on the sideline. In Jacksonville we were dead. We didn't play very well in the first half. We were kind of down, and then 'Peanut' scores that touchdown and everything just started. It was a snowball effect. The offense and defense started playing better."

The TDs have created a feeding frenzy among defenders, who all want to get in the end zone.

"We have a score chart for our defense with a point system, and everyone wants to get on that board," Briggs said. "Everyone wants to lead that board and break records on that board.

"When you see other guys scoring, you love it because it's us. It's the Bears scoring. But you want your opportunity and when your opportunity comes you're going to make something happen."