Offensive lineman Tom Andrews played three seasons in the NFL, including one with the 1985 Super Bowl XX champion Bears.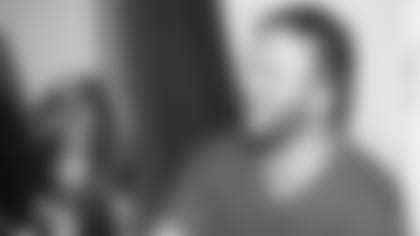 Tom Andrews celebrates following the Bears' 46-10 win over the Patriots in Super Bowl XX.
After his playing career was over, he quickly started working all of his contacts in search of a second career. He ended up in St. Charles, Ill., at a commercial aluminum company where he worked as a salesman for five years.
When Andrews had the opportunity to move back to Louisville, where he played college football, he jumped at the chance to sell commercial printing. Over five years he learned a lot about the business and was then recruited by Papa John's, which at the time was an upstart pizza company.
"They had about 100 stores at the time and they were interested in me because they were going to start a printing company that would be big enough to handle all of their needs," Andrews said. "They wanted to use outside commercial work to fill in the gaps."
After about a year with Papa John's, Tom had met a lot of people within the organization. They had just opened their 250th store and the company was experiencing unprecedented growth. During this time he was brought over to the operations side of the business and trained in all aspects.
"This required understanding everything from the ground up, including slapping dough and making pizzas," Andrews said. "I could actually open, run and close a store by the time I was done."
Papa John's then went public and growth became the key indicator for their success. After gaining the experience needed on the operations side of the business, Andrews moved over to their development side. He soon found he was able to use his academic background to meet this new challenge. At the University of Louisville, he had majored in environmental geography with a minor in geology. Environmental geography is used to study demographics and trends of population growth.
"Strictly coincidence that it was my major, but it has worked out very well for me," Andrews said. "As the company continued to expand throughout the United States, I worked with franchisee's and our development team internally to help layout markets across the country, determining how many stores a territory or town should hold and where those stores should be located."
As Papa John's continued to grow domestically and internationally, Andrews had the opportunity to introduce the brand to markets in South America, England, Ireland and Saudi Arabia.
Today, Papa John's has more than 3,200 stores in North America and nearly 1,000 more stores around the world, including about 170 in China and more than 300 in Europe.
In 2011, Papa John's fittingly opened their 3,000th North American store in Chicago just south of Midway Airport. The company threw a party at the location to celebrate the opening, which included pizza, live radio remotes and former Bear great Dan Hampton who signed autographs for the fans in attendance.
Andrews has been with Papa John's for more than 16 years, and he is now the senior director of development. He has helped the company grow to unbelievable heights from its rather modest beginnings.
"I have become the utility man in the development department doing a little of everything, including the sales of franchises, and it just so happens the company started in 1985," Andrews said, recalling the Bears' Super Bowl season.