News of Brian Urlacher's retirement reverberated through Halas Hall Wednesday as his former Bears teammates celebrated the star middle linebacker's illustrious 13-year NFL career.
"It's shocking news, but at the same time the most important thing right now is his life and his family," said return specialist Devin Hester, who spent part of Tuesday night at Urlacher's home. "He has some beautiful kids. I'm pretty sure the kids are more happy than anything." Brian Urlacher Retires
The face of the Bears franchise for more than a decade, Urlacher was more than just one of the greatest players in team history. Listening to those who shared the field and the locker room with him, the future Hall of Famer was also one of the most beloved teammates.
Safety Craig Steltz will never forget the warm reception he received from Urlacher after joining the Bears in 2008 as a fourth-round draft pick from LSU.
"I still remember the first day I got here," Steltz said. "Brian was one of the first guys to introduce himself. He made everybody feel [at] home here. No matter whether you were a rookie or you were coming from some other team and it was your 10th year, he made everybody feel the same.
"He was a great teammate, and that's what everybody's going to remember him for who was a part of his team, not just being a tremendous player on the field but he was always that guy in the locker room that kept us all together."
Defensive tackle Stephen Paea had a similar experience when he first met Urlacher in 2011 after being selected by the Bears in the second round of the draft out of Oregon State.
"My rookie year when I came in he knew my name right away," Paea said. "He said 'hi' and said his full name and that just [showed] he treats everyone the same. For him to do that, that's just being a role model to everyone."
A four-time All-Pro who was named NFL Defensive Player of the Year in 2005, Urlacher helped the Bears win four division titles and one conference crown. His eight Pro Bowl appearances are tied for third most in franchise history behind only Hall of Famers Mike Singletary (10) and Walter Payton (9).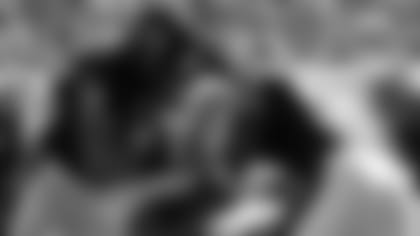 Brian Urlacher and Lance Briggs team up to tackle Minnesota Vikings tight end Jermaine Wiggins.
"He was a tremendous player, and he made everybody else around him better," Steltz said. "Anyone who played with him and played alongside of him would say the same thing.
"He was the guy that would be able to notice a formation or an adjustment and make a call and alert everybody else on defense to put them in a better position. He continued to do that from the first year to last year. We will miss him as not just a player on the field for those reasons but also a person in the locker room."
Urlacher's young teammates marveled at how he always knew what plays opposing offenses were going to call before the ball was snapped.
"He could tell you the play before the play even happens," said safety Major Wright. "To have a guy like that on the team is amazing because he'll call out, 'be expecting this if you see this formation.' That's how good he is on the field."
"We're lining up to get ready for a play and he's already calling out what they're going to run," Paea said. "That just makes it easier for us."
Urlacher never sought or enjoyed the public spotlight. But behind closed doors, he was playful, competitive and fun-loving-especially when playing Ping-Pong in the players' lounge or dodge ball in the locker room with his teammates.
"On the field he was a different person," Hester said. "But once he got in the locker room around his teammates, it was fun and games. Brian was one of the biggest kids on our team when it comes to playing around in the locker room. He's going to be missed, not only for the type of person he was but his presence on the field with his knowledge of the game."
Longtime teammate and fellow linebacker Lance Briggs was too emotional to talk about Urlacher's retirement on camera Wednesday.
"I don't have words in regards to Brian right now," Briggs said. "He meant something different for me than he did for most. For most it's just a thankful answer. For me it's deeper than that. [I'm] just not ready to speak on it right now, and that's really it. Now is time to celebrate his career."