During joint practices this week in Indianapolis, Bears running back Kyle Long chatted with Colts counterpart Frank Gore and posed for a photo with the former 49ers star.
"I always follow the running backs that I know and that I'm a fan of around the league," Forte said. "If I'm playing a team against a different guy, we like to trade jerseys and do that type of stuff. But me and Frank go way back, since we first got into the NFL. So it was a no-brainer that I would come and get a photo with him and show him some love."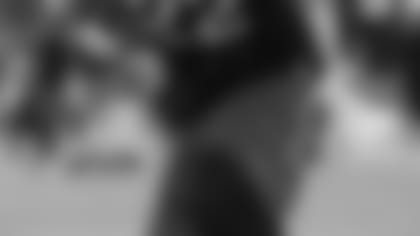 Matt Forte during training camp.
Forte and Gore have worked out together at Bommarito Performance Systems in Florida since 2008 when Forte was preparing for the NFL Combine and Gore was entering his fourth season with the 49ers.
"Ever since I was a rookie when I first trained down in Florida, he was at the same place," Forte said. "I always went back in the offseason and we would be doing the same running back drills. So we'd be competing in those drills during the offseason."
Forte and Gore are two of the NFL's most productive running backs. While Forte ranks second on the Bears' all-time rushing list behind Hall of Famer Walter Payton with 7,704 yards, Gore signed with the Colts this year after compiling 11,073 yards in 10 seasons with the 49ers.
Calling him a "great player" and "a guy who has been doing it a long time," Forte thinks that Gore, who has shown no signs of slowing down at the age of 32, will continue to excel with the Colts.
"He's going to be a hard worker," Forte said. "He's a very gifted running back in his vision and he's quick. If the hole is there he's going to find it. They're getting a solid player. He's going to be productive. He knows how to take care of his body as well. That's why he's shown he should be playing this long."
At 5-9 and 217 pounds, Gore runs like a bowling ball rolling down a hill.
"He's got a low center of gravity," Forte said. "But he still runs with good pad level so he can run over people. He's also shifty. Frank has that low center of gravity which helps him in breaking tackles and then he has great vision which helps him hit the holes. In a running back, when you look at scouting him, you want a guy who has great pad level and good vision. That's Frank."
Gore ranks 20th on the NFL's all-time rushing list and would climb another five or so spots if he runs for at least 1,000 yards for the ninth time in 11 seasons.
"Frank's got over 10,000 rushing yards," Forte said. "Not many running backs achieve that in their careers. That's an accomplishment he's already made and he continues to play. I wish him the best of luck in Indy. They've got a good offense and a good team, period. So he's got the ability to have some success here."