Versatile on and off the field, Bears defensive lineman Israel Idonije spent the bye weekend at New York's Comic Con unveiling his graphic novel, The Protectors, along with writer Ron Marz.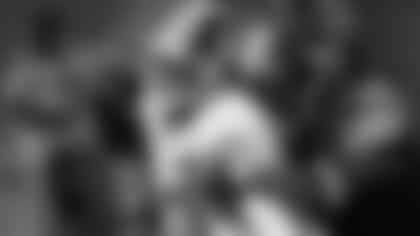 Defensive end Israel Idonije forces a fumble while sacking Redskins rookie quarterback Robert Griffin III during a preseason game at Soldier Field.
Idonije created the idea for the comic book in 2007 during training camp in Bourbonnais. It's about a group of professional athletes who discover that their true mission is to save the human race.
"The core element is one that connects with everyone as a person, wherever you're from," Idonije told USA Today.
"You've been given a unique set of skills, a gift coupled with your personality and who you are. That gift allows you to make a difference and a change in your world—what are you going to do with your ability?"
Marz, a comic book writer known for his work on "Green Lantern," has enjoyed collaborating with Idonije.
"He's the nicest guy in the world," Marz said. "Everybody always hears about the problem children in professional sports-the guys who screw up and the guys who make headlines for all the wrong reasons.
"You don't hear about guys like Israel who are the nicest, most genuine people you would ever want to meet who are out there doing good in the community on a regular basis."