Bears defensive end Jared Allen is continuing to regain the strength and the weight he lost during a recent bout with pneumonia that forced him to miss a Week 4 loss to the Packers.
Allen, whose streak of consecutive starts ended at 113, lost 15 pounds from 254 to 239. He's inching back toward his normal playing weight and said Thursday that he's feeling "much better."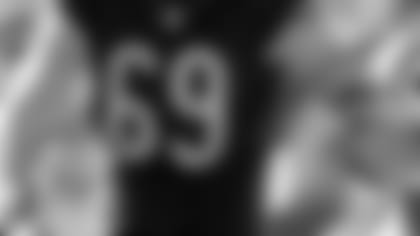 Jared Allen has recorded 15 tackles in his last two games, the most in back-to-back games in his 11-year NFL career.
"I haven't stepped on a scale today, but the other day I was about 245," said Allen, who returned to action last Sunday in Carolina. "Still probably a nice 8-10 pounds would be good. My appetite has picked up immensely. I feel good. My lungs felt good out there on Sunday. I'm ready to rock."
According to statistics compiled in the press box, Allen led the Bears with seven tackles in their loss to the Panthers. He was credited with eight stops in a Week 3 win over the Jets, his best output since recording seven tackles on Nov. 14, 2011 while playing for the Vikings, a span of 43 games.
While Allen has yet to record a sack this season, he insists he's not frustrated at all because he has contributed in other facets of the game.
"Goodness, I led the team in tackles the other day," Allen said. "I was laughing with somebody, I said, 'Well, that whole thing about me not playing the run anymore has got to be out the window.'
"If I was playing bad ball, I would let you know. I felt I was in a good rhythm coming off that [Jets] game and last week I could have used some of the weight back on a couple of things.
"For me, it's about making plays, as long as I am helping my team win, as long as I am doing my job, doing my assignments, grading out well and my production is up, whether those are tackles or sacks. Do I want all the sacks? Absolutely. Will they come? Absolutely."
Allen conceded that it won't be easy to erase his goose egg in the sack column this week against the Falcons, who place a huge emphasis on protecting quarterback Matt Ryan.
"The ball is out quick," Allen said. "We're going to see a lot of chips, a lot of seven-man protections. It's going to be one of the things to just not get frustrated and not get into those battles worrying about that. Just try to beat the man in front of you and see what happens; hopefully the quarterback has the ball when you get there."
Allen recalls that Falcons offensive line coach Mike Tice always went to great lengths to keep him away from Bears quarterbacks when Tice was an offensive assistant in Chicago from 2010-12.
"I swear every time we faced the Bears we got them right after they got shellacked and it was just like, boom, eight people blocking," Allen said.
"The key is the same as it is every week. If you can get a lead, it'll force them to spread out. If we can get them into third-and-longs, we can force people to spread out. That's going to be kind of the chess match that we're going to play. What can we do? We can bat balls down. We can pressure. Getting Matt off his spot and not letting him throw rhythmically is going to be huge for us. You've just to keep grinding and eventually you get there."