Bears receiver Alshon Jeffery is headed to the Pro Bowl after all.
Originally selected as an alternate following a breakout season, Jeffery on Thursday was named to replace Lions receiver Calvin Johnson, who will be unable to play due to an injury.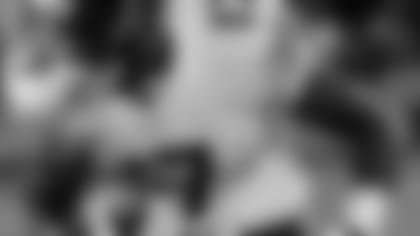 Alshon Jeffery caught a career-high seven touchdown passes for the Bears in 2013.
Jeffery ranked sixth in the NFL among receivers with 1,421 yards, the second most in franchise history, and was 10th with 89 receptions, the sixth most ever by a Bears player.
"I'm extremely blessed and thankful for the opportunity to play in the Pro Bowl," Jeffery said. "I want to thank coach [Mike] Groh, coach [Marc] Trestman and the rest of my teammates for putting me in a position to succeed this season. Thanks to all the fans for all of the support this season and I'm looking forward to playing with Brandon [Marshall] and Matt [Forte] in Hawaii.
"Just being from where I came from to where I am now, what I'm doing, it's just special to be part of the success we're having as a team. Finally, I want to thank my Mama and my family. I'm going to continue to make you all proud."
A 2012 second-round draft pick from South Carolina, Jeffery recorded the two most prolific receiving games in Bears history in 2013 with 249 yards against the Vikings and 218 yards versus the Saints. The previous single-game record of 214 yards by Harlon Hill had stood since 1954.
"We saw this in practice," Trestman said late in the season. "We saw his work ethic and we saw him making plays in practice, [but] you never really know. You're not tackling in practice. You're in shorts most of the time. You don't know that this is going to happen.
"You don't really envision it. You hope that players like that will carry what they do in practice out on the field because that's where you really find out and that's what he's done. There were no predictions here or no envisioning of how it would be.
"I'm sure he had a vision of how it would be and that's the most important thing in what he was going to do when he got on the field. But we just went at it to allow him to do the things in the game that he's done in practice, and that's what we try to do each week."
Jeffery made spectacular touchdown catches in three straight games late in the season against the Vikings, Cowboys and Browns. With the Bears trailing 24-17 in Cleveland, he plucked a jump ball out of the air between two defenders for a crucial 45-yard touchdown in an eventual 38-31 win.
"He has a confidence about himself," Marshall said late in the season. "I remember last year, we sat down and talked about goals at the beginning of the season and his goal was to make the Pro Bowl as a rookie. Some older guys would look at that kid like 'you're ridiculous.' I looked at it and I said, 'Hey, I've got that same attitude.' You've got to dream big. If you don't believe in yourself, nobody will. I respected him a lot for that."
Jeffery will join Marshall and Forte in the Pro Bowl. This season marks the first time the Bears will send two receivers to the annual all-star game. Before Marshall was selected last season, the only Bears receiver to be voted to the Pro Bowl since 1971 was Marty Booker in 2002.
For the first time ever, the Pro Bowl was not determined by conference. Gone is the familiar AFC vs. NFC match-up that has existed since 1971. Instead, players were selected without regard to conference in voting by fans, coaches and players.
Players will be split into two teams via the first-ever Pro Bowl draft Jan. 22. The game will be played at Aloha Stadium in Hawaii on Jan. 26, the Sunday before the Super Bowl.