Last week ChicagoBears.com invited fans to select the Bears' top five plays of the season. Finishing in third place with eight percent of the vote was Alshon Jeffery's 45-yard touchdown reception Dec. 15 in a 38-31 win over the Browns in Cleveland.
#4 – Hester's punt-return TD

With the Bears trailing 24-17 and facing third-and-11 from the Cleveland 45 early in the fourth quarter, quarterback Jay Cutler heaved the ball deep down the field to Jeffery.
It appeared that Browns safety Tashaun Gipson was in perfect position to record his third interception of the game. But the pass-which looked more like a punt-sailed over Gipson to Jeffery, who plucked it out of the air and dove into the end zone for a touchdown.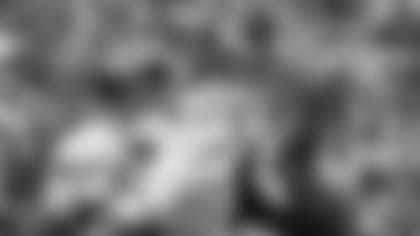 Alshon Jeffery hauls in a 45-yard TD pass behind Browns safety Tashaun Gipson in Cleveland.
"Jay just got the ball out of his hand because he got hit," coach Marc Trestman said at the time. "It kind of fluttered out and the fortunate part about it was he gave Alshon a chance to make a play. He threw it up high and gave him a chance to make a play and Alshon did what he does and that's jump in the air and use his strong hands to make plays, and that was certainly a huge play for us."
Jeffery's touchdown came immediately after the Browns had taken a 24-17 lead late in the third quarter on T.J. Ward's 51-yard return of a Martellus Bennett fumble.
"To watch Alshon make that catch, you're like, 'Oh my goodness, did he just do that?'" said Bears cornerback Zack Bowman. "Everybody on the sideline just kind of looked at each other. It was a heck of a catch."