What's the best way to contend with a Pro Bowl defensive end who makes his living mauling quarterbacks? Sign a Pro Bowl left tackle to protect your quarterback's blindside, of course.
The Bears did just that in March when they inked Jermon Bushrod to a five-year contract. Having struggled to keep Jay Cutler on his feet in previous seasons, they brought Bushrod in to contend with players like the one they'll face Sunday at Soldier Field, Vikings star pass rusher Jared Allen.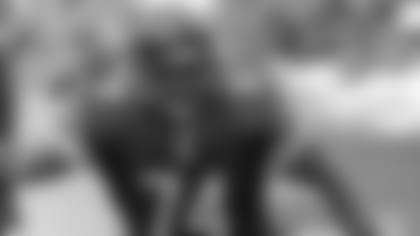 Jermon Bushrod spent his first six NFL seasons with the Saints before joining the Bears in March.
"I've got all the confidence in 'Bush' to block him one-on-one," Cutler said.

"We're going to throw some different looks at him. I don't care how good you are on the offensive line. If you just go one-on-one, one-on-one, one-on-one, and you take big drops, at some point he's going to get to you. So we're going to help him out from time-to-time. But at the end of the day, I have a lot of confidence in Bushrod being able to block him."

Allen ranks second in the NFL among active players with 118 sacks. He set a Vikings team record with 22 in 2011, establishing the mark with 3.5 in the season finale against the Bears. Allen had 12 sacks last season and recorded one in last Sunday's opener versus the Lions.

Allen had 13 sacks in his first eight games against the Bears, but was blanked in two contests last season. When Bushrod played for the Saints, he did not allow a sack to Allen in two meetings.

"He's a tough competitor," Bushrod said. "I've played him a few times and it's no letdown every play. He's going hard to the ball every single play, so I've got to be striking on all cylinders to get it done this week."

Cutler first played against Allen when they were both in the AFC West.

"He talks a lot; I kind of just listen to him," Cutler said. "He's a fun player. When I was in Denver, he was in K.C., and then obviously here. I've gone against him a number of years. I've got a lot of respect for him as a player and as a person."

Bushrod wasn't the only offensive lineman the Bears added during the offseason. The starting five in last Sunday's opener against the Bengals featured four new players, including left guard Matt Slauson and two rookie draft picks, right guard Kyle Long and right tackle Jordan Mills. In addition, both reserves who dressed—Eben Britton and Taylor Boggs—are also new to the team.

"Just from watching film already, they've upgraded in some positions, absolutely," Allen said. "Bushrod is definitely a good addition there. It's hard to tell with young kids after one game, but I think the biggest thing is they're still doing a lot of max protection. You still see a lot of tight ends staying in, a lot of play-action routes off max-protect looks. That makes it difficult when you're rushing four and they're blocking seven. We'll have to fight through it."

While Allen is a five-time Pro Bowler who remains one of the NFL's best pass rushers, he isn't the only talented player on the Vikings defensive line. Tackle Kevin Williams, who has been voted to six Pro Bowls in 10 NFL seasons, is expected to play Sunday after missing the opener with a knee injury. And veteran end Brian Robison recorded 8.5 sacks last season.

"They have more than one challenge on their front," said offensive coordinator Aaron Kromer. "It's a very stout front four, especially with Kevin Williams coming back. That will make a big difference for them with his veteran strength and power. He's been very productive as well."

Bushrod and the Bears did not allow a sack in their season-opening win over the Bengals. It's unrealistic to expect that to happen every week, but it remains a goal to strive for.

"We want to fight to keep our quarterback up as much as possible," Bushrod said. "Every game is not going to be like that. I wish it was but it's not going to be like that. We're going to fight for him.

"It's the same thing every week, week-in and week-out; try to minimize our mistakes and let our playmakers make plays. That's what it's all about. We don't want any credit. We just want to work and see those guys do what they were born to do: score touchdowns and make plays."