If receiver Joe Anderson is in fact on the Bears' roster bubble, he made a strong case for his future employment in Thursday night's preseason finale at Soldier Field.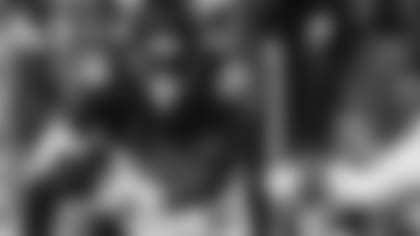 Joe Anderson tallied 64 yards and one touchdown on four receptions against the Cleveland Browns.
Playing the first half in an 18-16 loss to the Browns, Anderson caught all four passes that were thrown in his direction for 64 yards including a 5-yard touchdown from Jordan Palmer.
"Joe Anderson was the same Joe Anderson we saw all during training camp; playing hard, playing fast and being very efficient and catching the football," said coach Marc Trestman.
"He showed it again tonight. He made plays. He made some awkward catches. Everything we saw during practice he has proven he can do under the lights, no doubt about it. He's right there in the mix. There will be some tough decisions in these 53, but I think regardless of what happens there, he has shown that he can certainly play in this league."
Anderson and Palmer demonstrated a rapport on the field that belied the fact that they just met less than two weeks ago. The two produced the Bears' only touchdown of the game on a nifty back-shoulder throw in the left corner of the end zone and later connected for a 37-yard gain.
"He ran some great routes, did some stuff after the catch," Palmer said. "I was very impressed; loved his demeanor. [He's a] playmaker. I like him a lot."
Ups and downs: Tight end Fendi Onobun provided convincing reasons to both put him on the 53-man roster and also cut him loose Thursday night.
After dropping three passes without recording a reception in the first three preseason games, Onobun caught four passes for 45 yards Thursday night. But one pass that deflected off his hands was intercepted and returned for a touchdown. He also had another drop and committed two holding penalties, one of which was declined by the Browns.
"What you see when he does well is what we've seen in practice," Trestman said. "There's a light there. When that light switch goes on, he's got a chance to be a very good player. We have tough decisions to make, and certainly Fendi is going to be in the mix when we make these decisions because of what he showed tonight again, and what he's shown in practice.
"I just can't say how this thing is going to work out. We're trying to find the best 53 players. There's a lot of different ways we can work the numbers, and Fendi will be part of that decision."
Rookies rest: The Bears did not play any of their starters Thursday night, including three rookies in middle linebacker Jon Bostic, right guard Kyle Long and right tackle Jordan Mills.
"It's sort of a rite of passage for rookies to play in the fourth preseason game," Trestman said. "If D.J. Williams was healthy and had been playing, we probably would have played Jonathan Bostic. Without a middle linebacker right now to replace Jonathan, we felt we had to keep him out; that was No. 1.
"On the other side of it, we just felt that Kyle Long and Jordan Mills have really played well and practiced well, and going into next week, unless things change, it looks like they will be there [starting] at the guard and tackle positions. We'll make some final decisions on Monday, but it looks like they have the first shot."
Also idle: A fourth rookie, receiver Marquess Wilson, also did not play Thursday night. The seventh-round pick is listed third on the depth chart behind Brandon Marshall and Earl Bennett, who has been sidelined since suffering a concussion Aug. 2 in practice.
Asked if Wilson is assured of a roster spot, Trestman said: "That will be discussed tomorrow. The Earl Bennett situation right now is significant. Marquess is next in line, so we'll see where that is. That's part of the reason we kept him out from playing wide receiver tonight."
Backfield battle: Trying to supplant Armando Allen as the Bears' No. 3 running back, undrafted rookie Michael Ford experienced some highs and lows against the Browns.
The LSU product rushed for a team-high 48 yards on nine carries including a 27-yard run, but he also dropped a short pass and was flagged for a false start on the punt coverage team.
Allen, who missed the previous two preseason games with a hamstring injury, rushed for 39 yards on 10 carries including an 18-yard run.
Aches and pains: Bears tackle Cory Brandon was carted off the field late in the fourth quarter and sent for x-rays after injuring his ankle and lower leg.