Radio announcers Jeff Joniak and Tom Thayer break down the Bears from training camp:
Jeff Joniak: "There was some criticism of Shea McClellin
early in training camp from observers watching practice. But everyone realizes that there is going to be an adjustment period with any rookie and you can't evaluate what you see in drills until you see him in a game. And what we saw from him in the preseason opener was speed and the ability to track down the quarterback. The Bears want him to be a situational pass rusher, and the arrow's pointing up with Shea McClellin."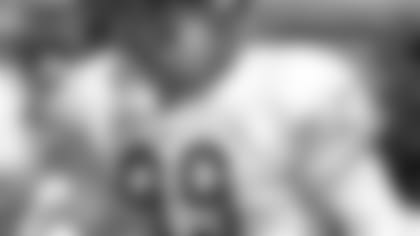 The Bears selected defensive end Shea    McClellin with the 19th pick in the draft.
Tom Thayer: "When opponents get a chance to see Shea McClellin, it's going to make them a little paranoid. When that offensive lineman gets in his stance, he's guessing what that defensive lineman's going to do, and with Shea McClellin's creativeness with his hands and feet as well as his athleticism and hustle, he can beat the offensive tackle off the snap of the ball. There are a lot of things Shea's going to do for this defense because he's a good outside pass rusher. His presence on the nickel defense will allow the Bears to move Israel Idonije inside. It's going to give them a wide variety of options."
Joniak: "One player who has really impressed me in training camp is rookie receiver Alshon Jeffery. I especially like the way he's shielding defenders. He made a nine-yard reception against the Broncos by sealing off the defender. He has natural instincts, he shows his numbers to the quarterback so they can make a perfect throw on a slant and he catches the ball with his hands, not his body."
Thayer: "Alshon Jeffery uses his size as an asset. He can pluck the ball out of the air. He can shield his body away from defenders and he can show the numbers to his quarterback. That's everything you want out of a receiver when he's catching the ball. Alshon Jeffery has been everything that he's been billed as. He's big, can run downfield and can make high catches. I think he's benefiting from the influence of Brandon Marshall. He's a great guy to learn from considering the similarity in their sizes."
Joniak: "One major aspect of this team that will continue to get discussed is the offensive line and how it's going to come together in a short amount of time, and against two opponents coming up that are pretty aggressive. You've got the Redskins' 3-4 defense with two very good pass rushers in Brian Orakpo and Ryan Kerrigan and the Giants who will be fighting in the third preseason game to establish their position once again as a dominant defensive front. That offensive line better protect or it's going to be an issue. Over the course of this past week we've seen a different mentality with the line on the practice field because offensive coordinator Mike Tice wants them to be more physical. They were not physical enough in the preseason opener against the Broncos."
Thayer: "I like the approach the coaches have taken after the evaluation of the first game on tape. They understand that the offensive line has to be more physical and provide more time when they're throwing the ball. A lot of it will come in the line learning the system better. For example, they have combination blocks, where two offensive linemen block a defensive lineman to the second level. I think if the offensive line is more determined to block the guys on the line of scrimmage and then worried about getting to that second level you're going to open holes for these running backs. And then it's going to take the evaluation of the running backs watching the tape to see the timing, practice their patience and understand how the combination blocks work to get the offensive linemen in the best blocking position. So it's a team goal to get this offense running more efficiently and it will come with time. But the aggressiveness of the defenses they're getting ready to play is not going to allow them a lot of time."
Joniak: "Craig Steltz could be one player who's challenging for a starting job. Anytime he's given an opportunity he fulfills his job duties pretty darned well. He's smart, and now that he's in hiss fifth season he's feeling that he has a voice. He's also an outstanding special teams player as well."
Thayer: "Lovie Smith knows that what you lack in athleticism you can make up for in intelligence and a predetermined direction that you want to go before the snap of the ball, and that's what Craig Steltz is able to do. When you look at athleticism he's probably fourth or fifth in line at the safety position. However, the more he becomes a veteran, the smarter he is about offenses in the NFL and the smarter he is about his own defense. Sometimes positioning and intelligence can put you in a better place than just the ability to run fast."
Joniak: "What would you like to see in Saturday night's preseason game against the Redskins?"
Thayer: "I need to see better performances by certain individuals because their jobs could be on the line. If you have two poor performances in the preseason, the Bears are going to consider making a change. There are a lot of guys here—both veterans and young players—who are still trying to make their mark and if you earn praise from coaches that's going to give you another week of opportunities. But if you come out and give a lackluster performance or there's uncertainty with mental errors, the coaches are going to look to replace you."