Radio announcers Jeff Joniak and Tom Thayer break down the Bears: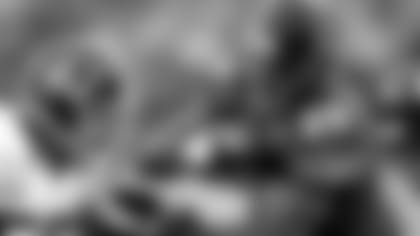 Michael Bush tallied 21 yards and two touchdowns on five carries against the Redskins
Jeff Joniak: "I'm very excited about what I saw from the Bears offense last Saturday night against the Redskins. It's everything we've discussed at length as we're formulating in our heads just how this offense is going to look with Mike Tice calling the plays. I'm particularly interested in the red zone and what happens inside the 10-yard line specifically. If they decide to run the ball, Michael Bush could be a 10-touchdown guy. Matt Forte could be a 10-touchdown guy. And then you've got Brandon Marshall, Alshon Jeffery, Earl Bennett and Kellen Davis. All of them are red zone weapons, and I see the Bears scoring a lot more points if they can still move the ball well and move the chains and get in position in the red zone."
Tom Thayer: "There are two things that I'm excited about after watching the Bears beat the Redskins. First, coach Lovie Smith laid down the law. He challenged some veterans to play at a much higher level than they did in the preseason opener, and I think each of those guys answered the call. Israel Idonije had two and a half sacks. Chris Spencer played more physical. J'Marcus Webb and Chris Williams played better at the left tackle position. Second, I saw a stat at the end of the first half that six different players all had catches of at least 15 yards. So if the players play up to expectations, this offense is capable of everything you said. If everyone is playing at their best, there's not a down and distance that's unattainable for this offense."
Joniak: "We haven't even talked about rookie tight end Evan Rodriguez and what he's shown with his hands. Alshon Jeffery also continues to impress with his hands. The guy catches everything. Right now he's glue fingers. The way he positions his body is experienced receiver ability right there. This past week Brandon Marshall said that he's impressed with the coaching that Jeffery has received because the rookie's much more polished than people would have imagined."
Thayer: "Brandon Marshall is one of the best influences on Alshon Jeffery, not only by his work ethic that he saw throughout training camp and the offseason but because he gets to try to emulate his style and what he does on the field that's allowed him to be so successful over his career. It would be different if Alshon Jeffery was a 5-10, 185-pound receiver trying to learn what a 6-4 receiver can do. But when you have a prolific 6-4 receiver on your team who is already familiar with Jay Cutler and Jeremy Bates, Alshon Jeffery's learning curve is sped up at an incredible rate."
Joniak: "A red flag for me continues to be that safety position, where injuries have crept into the conversation with Chris Conte and Brandon Hardin. That's a position that has lost a lot of man hours over the years and I just hope it doesn't continue to be an area of concern for the Bears. I really feel good about Craig Steltz and the veteran mindset he brings to the defense. But there's just so much uncertainty there at safety. That's my biggest worry right now."
Thayer: "I'm concerned about that too, especially with middle linebacker Brian Urlacher temporarily sidelined following arthroscopic knee surgery. With what he does on that deep middle drop, quarterbacks stay away from that area of the field due to the type of territory Urlacher can cover. Now you're talking about inexperience at safety and uncertainty at the 'Mike' position. That's a big void in the middle of the defense. Eventually the Bears have to find two safeties that are going to have to stay there for games and years consecutively. That's what they're searching for. It seems like when we're watching training camp practices the candidates are there. But those candidates have to be game players and not just practice players. That position is going to be a key element to the overall success of this defense."
Joniak: "I asked Giants defensive coordinator Perry Fewell at the Super Bowl last season how many of his defensive linemen he considered legitimate top quality pass rushers, and he said eight. These guys are the Bears are going to face Friday night are ferocious.[ ](http://www.phoenix.edu/campus-locations/il.html?utmsource=Story&utmmedium=instory&utmcampaign=300x100) It's going to be a terrific test and a great measuring stick of just where they are and how far they need to go to protect in the passing game. And I'm talking about everyone, not just the offensive line."
Thayer: "I was not really too excited with how the tight ends blocked against the Redskins. So my concern is when they move their personnel around and try to create one-on-one match-ups against the weakest blocker. I think the tight end position is going to be challenged this week to block better. When teams come up with zone blitzes, they try to overload the line of scrimmage and challenge a blocker who doesn't do it repetitively like offensive linemen do. I need to see a better effort by the tight ends this week against the Giants."