Radio announcers Jeff Joniak and Tom Thayer break down the Bears heading into Thursday night's preseason finale in Cleveland:
Tom Thayer: "What I want to see in this last preseason game is for some of the second- and third-stringers to play physical and show they're still competing. I want to see a defensive tackle hustling down field, a linebacker pursuing the ball and a defensive back willing to fight down the field. On offense, I want to see the tenacity of a lineman two or three steps into his block and the willingness of a guy that has a huge isolation block on a linebacker to take him out. Effort is the key because when you're evaluating the bottom end of the roster, that's what you're looking for."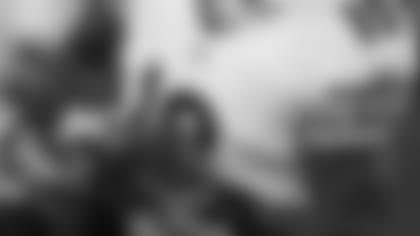 Rookie wide receiver Joe Anderson has impressed Bears coaches this summer.
Jeff Joniak: "In a game like this with not very much if any game-planning going on, I think you get to see a guy's true athleticism and instincts. You're just going to let it rip because you have nothing to lose. For the guys who are going to be on the field, especially throughout the second half, this will be one big audition."
Thayer: "Careers have been made in this last preseason game. We say they're not game-planning, but they've been planning for five months. So if they call an easy off-tackle or stretch play to the right and you still have a guy making a mental error, that will tell you a lot. Same thing if you're going with the same snap count and you've got a guy who's late getting off the ball. If you're still exposing your lack of mental ability, that's not going to bode well for you."
Joniak: "In the salary cap era, many decisions have already been made based on positional battles throughout the course of the offseason. It isn't just going to be determined on Thursday night what happens with the roster. I think in many respects that goes on throughout the NFL. There's this notion that you could win a couple jobs here and there, and maybe that's true. But this is a roster that's pretty solidly set. One spot that could still be undetermined, however, is the third running back. Lorenzo Booker seems to be a little bit thicker and have a little more juice in the return game than Armando Allen. Special teams will say a lot about who gets that job. Booker is certainly on everybody's radar with the 105-yard kickoff return, and he's got fairly significant NFL experience. He's a five-year veteran versus a one-year player in Allen."
Thayer: "Because of the uncertainty surrounding Brian Urlacher, there's going to be some teeter-totter guys on defense where you have to ask yourself, 'Do we keep him or let him go? Does he contribute on special teams? Is he going to develop if he does earn a roster spot?' The unfortunate side of it is sometimes you may lose a player because there's a lack of depth or lack of health at another position. Those are the considerations that go into making the final roster decisions."
Joniak: "One thing to keep in mind is that general manager Phil Emery has made it clear he is going to try to improve this team every single day. So with 700-some players throught the NFL being cut by Friday night, some players the Bears have scouted could become available and could replace somebody we think has already earned a roster spot. It's really a never-ending process."
Roster move: The Bears on Wednesday re-signed rookie receiver Terriun Crump and waived/injured second-year linebacker Dom DeCicco.
An undrafted free agent from Western Illinois, Crump returns after being waived Monday. DeCicco joined the Bears in 2011 as an undrafted free agent from Pittsburgh. He appeared in all 16 games as a rookie, ranking second with 17 special-teams tackles. DeCicco sustained a groin injury in the preseason opener against the Broncos.