It's a small sample size for sure, but Josh McCown will enter Sunday's start against the Ravens with a 103.2 passer rating that is the highest he has ever posted in a three-game stretch in his career.
Out of football after playing eight NFL seasons with the Cardinals, Lions, Raiders and Panthers from 2002-09, the Bears brought McCown back into the league in 2011. But his career wasn't truly revitalized until this year.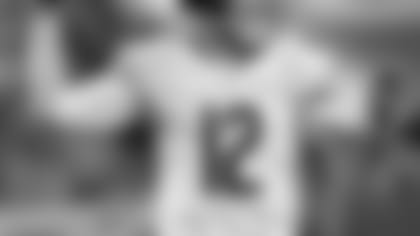 Josh McCown will start Sunday's game against the Ravens in place of the injured Jay Cutler.
Like injured starter Jay Cutler, McCown has clearly benefitted from operating a quarterback-friendly system under an offensive-minded head coach in Marc Trestman.
"Sometimes everything in life is just about opportunities and when things happen," McCown said. "The timing of all of this for me in the stage of my career to get hooked up with these coaches and these players, I think it's just all coming together at the right time.
"It's energized me, no doubt about it, because it's fun to work with people that understand what they're doing and are going to put you in a chance to be successful."
Playing in relief of Cutler the last three games, McCown has completed 42 of 70 passes for 538 yards with four touchdowns and no interceptions. His aforementioned 103.2 passer rating is eighth in the NFL among quarterbacks with at least 50 pass attempts.
McCown credits much of his success to the offensive scheme, which places a premium on pass protection and getting the ball out of the quarterback's hands quickly.
"You feel like there's an opportunity to be successful every game and you don't have to step outside the system and press every time," McCown said. "If you drop back and it's not there, you can check the ball down, you can throw the ball away, and you know from a play-calling standpoint and the structure of our offense that we'll have another shot, we'll have another play.
"For me, that's created a lot of ease and allowed me to play more consistent because I don't press and try to get outside of the system and get outside of myself."
Another reason McCown has excelled this season is that he's been with the Bears since Trestman began installing the offense in April. The previous two years the backup quarterback did not join the team until November after Cutler had sustained an injury.
Given that McCown began the last two football seasons as a high school coach in North Carolina before being summoned to Chicago, he's grateful to be in the position he's currently in.
"I appreciate every opportunity and I think just from my career path, to be able to sit here on a football team for one for me, I'm just very thankful," McCown said. "And then to be playing and to be playing with the guys I'm playing with and in this system, I couldn't ask for anything more. I'm very appreciative of everything that's going on right now."
McCown is an ideal No. 2 quarterback in that he can operate the offense efficiently without the Bears having to condense the playbook.
"Like we said last time Josh played against Green Bay, we're going to continue to call the plays that are going to work against the coverages and the things we're seeing," said offensive coordinator Aaron Kromer. "In no way does he inhibit the offense. He actually has done a nice job of just running the offense and taking what they're giving us.
"Anytime you can put your backup quarterback in and be productive and win a game, it's a huge plus for the team."