In replacing the injured Jay Cutler as Bears starting quarterback, Josh McCown is spending most of his waking moments preparing for Monday night's NFC North showdown in Green Bay.
But before he dives into his playbook or jogs onto the practice field, the 34-year-old takes a few minutes every morning to think about his incredible journey back to the NFL.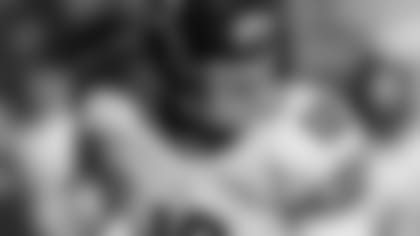 Josh McCown helped the Bears generate 24 points in the second half of a 45-41 loss to the Redskins Oct. 20 in Washington.
After playing eight seasons with the Cardinals, Lions, Raiders and Panthers, McCown was out of the league coaching football at Marvin Ridge High School in North Carolina when the Bears summoned him in November 2011 after Cutler broke his thumb.
The Bears brought McCown back again last November after Cutler suffered a concussion before re-signing the backup quarterback to a one-year contract in March.
"I try to reflect on that every day to be honest with you when I wake up," McCown said Thursday. "I'm very thankful to be here and to have my opportunity, and thankful to the McCaskey family, Phil [Emery], Marc [Trestman] and the people that brought me here.
"I'm excited about this opportunity. In my situation, I hate the circumstances, but it's my opportunity to serve my team. I'm very thankful to have this chance."
After Cutler sustained a torn groin muscle Oct. 20 against the Redskins, McCown excelled in relief, completing 14 of 20 passes for 204 yards with one touchdown and a 119.6 passer rating. The 6-4, 213-pounder led the offense to three TDs and a field goal on four straight possessions.
McCown will make his first start Monday night since the final two games in 2011. The first of those contests was a 35-21 loss to the Packers in Green Bay, a game in which he connected on 15 of 25 passes for 160 yards with one TD, one interception and a 75.4 passer rating.
Asked what he remembered about that game, McCown said: "I remember that we lost, that would be the first thing. I just remember walking out of that tunnel in Lambeau and it's really narrow there, and just kind of being the first of many reflections about, 'Man, just [a few weeks earlier] I was jogging out on the field against Charlotte Catholic to coach high school kids.'
"I just remember getting into the game and feeling like, 'Man, this is a football game. It's just another game.' So hopefully it'll be the same thing."
The Bears haven't had a lot of success against the Packers in recent years, losing six straight and eight of nine since 2009. The 21 points that McCown helped post in the 2011 game marks the most points the Bears have scored versus Green Bay in their last 11 meetings.
While McCown lauded Packers defensive coordinator Dom Capers Thursday as "a heck of a football coach and a man," the veteran quarterback is confident in an offense that has helped the Bears average 30.4 points this season, the second most in the NFL.
The unit certainly boasts more weapons than it has in the past with receivers Brandon Marshall and Alshon Jeffery, tight end Martellus Bennett and running back Matt Forte.
"I feel like we'll be ready to put our best foot forward as good as we ever have here in the past," McCown said. "That gives you a comfort level as a quarterback going into this game."
Having been with the Bears from the first day Trestman began installing his system in April, McCown is better prepared to play than he was the past two years after joining the team in November.
"It's certainly been nice to go through the offseason this time around and be in the system, no doubt," McCown said. "It's a fun system for quarterbacks, it really is. You've seen Jay so far this season play at a very efficient level.
"If you trust your preparation, what coach [Matt Cavanaugh] and coach Trestman have asked us to do, you can play productive football. You can play efficient football and move your team."
McCown has enjoyed working with Trestman, who was hired by the Bears in part because of his excellent track record coaching quarterbacks such as Steve Young and Rich Gannon.
"It's special to be around him because he lives what he says, first of all, which is neat and rare," McCown said. "He's the same every day. He lays out to you what we're trying to get accomplished, and he doesn't vary from that. You see Jay's play getting better and better every week. He creates an environment for you to be successful as a quarterback if you're willing to put in the time."