When the Bears selected guard Kyle Long in the first round of the 2013 draft after he had started only five games at Oregon, some questioned the decision—including Long himself.
"I was in the same boat with a lot of people thinking, 'Why the heck did they pick me?'" Long said Wednesday. "I was excited, but I really didn't understand and I knew there were a lot of expectations that come along with being a high pick. So I was just trying to be the best teammate I could be and trying to be a sponge and learn."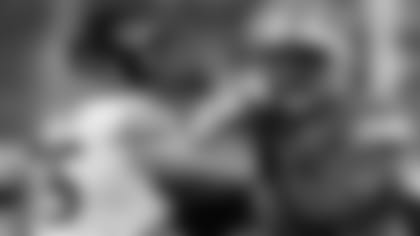 Right guard Kyle Long was chosen by the Bears with the 20th pick in the first round of the 2013 draft.
That approach has paid major dividends for Long, who has been voted to his second straight Pro Bowl. He's the 10th Bears player to be selected to the all-star game in his first two NFL seasons, joining an impressive group that includes Dick Butkus, Gale Sayers and Brian Urlacher.
"We're certainly excited for him," said coach Marc Trestman. "He's worked very hard and he's gotten recognition from players in the league. I know he's appreciative not only of this award but of the guys around him who helped him get it."
Given Long's limited experience entering the NFL, the rapid progress he's made at the highest level of the sport has been remarkable.
"It just tells you how physically gifted he is and how determined he is," said quarterback Jay Cutler. "He doesn't come out there just because it's fun. He comes out there with a purpose. He wants to be one of the best in the league and he will be by the time he's done.
"I couldn't be happier for him. I couldn't be prouder for him. He's an unbelievable talent and I think he'll agree that he's got so much more room to grow. He's going to be a better player next year and he's going to be an even better player the year after that."
Long expects to continue to improve in all areas as he gains more experience.
"Last year I was told what to do a lot of the time and I still didn't know what they were talking about," Long said. "Now they can tell me what to do and I'll know what they're talking about. Hopefully next year I'll be able to tell myself what to do. It's a process."
That process has accelerated this season for Long, who has started 14 of 15 games at right guard after opening all 16 at the position in 2013.
"This year he's grown in his technique," said running back Kyle Long. "He's so technically and fundamentally sound that when he does things right and gets his hands in the right places he's just so strong that he can control guys—the best guys in the league. I think that's the difference in when he first got here and now."
Offensive coordinator Aaron Kromer sees a player in Long who has made major strides.
"Kyle's come a long way," Kromer said. "When Kyle got to the Bears, he didn't have a lot of offensive line knowledge of why and what and how, but he really worked hard at it.
"He's got a lot of energy. He's an intelligent person. As it went and as he learned, he progressed last year, but he didn't really see the defense that well last year. He didn't understand why things were happening, but he understood what his job was and he worked at that.
"This year, you could see the growth of Kyle in him seeing what the defense is trying to do and allowing him to have a leg up on what he thinks is about to happen as opposed to just doing his job. That's where he's improved this year and that's why his game has gotten better."