Matt Nagy never enters a team meeting alone. The first-year Bears coach always brings notecards with him to ensure that he doesn't forget to relay important information to his players.
"You always get a good feel for a coach with how he addresses the entire team, and he makes sure he hits all his points," said defensive end Akiem Hicks. "He has his cards out and makes sure that he gets everybody in line and knowing what we've got for the day and stuff like that. He's very, I wouldn't say OCD yet, but he's very detailed."
Nagy utilizes three-by-five notecards with a Bears logo in the center. It's a practice he picked up while working on Andy Reid's staff with the Kansas City Chiefs the past five seasons.
"I've learned from one of the greatest in coach Reid," Nagy said. "He's very detailed and you kind of get trained a certain way. You see what works and for me I'm going to do it how I want to do it. That works for me and that's just how I'm doing it.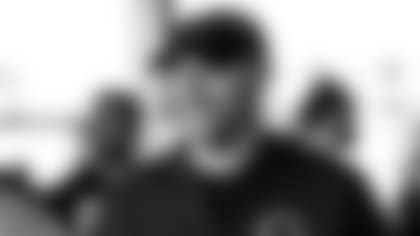 Head coach Matt Nagy talks with coaches during Bears practice on Tuesday.


"There's some time that goes into it. I try to go over it as much as I can the night before. But what you don't want to do with these details is you don't want to be a robot that just sits there and reads lines. I don't want that."
Details that Nagy expects to see from Bears players include tucking in their jerseys, jogging from drill to drill and keeping footballs and their helmets off the practice field.
"That's not just what we do on Day 1, that's what we do really in the middle of October, November, December, January, etc.," said the first-year head coach. "That's not something that stops, it continues, just focusing on those details."
Attention to detail is important to Nagy because it creates accountability.
"If the guy next to you isn't detailed and he fails, then he's failing with his side of accountability," Nagy said. "That's not just the players. Let's remember that's the coaches, too, and it's going to start with me. If I'm not detailed in what I do, then I can't talk that to the players, so it starts with me. It goes down to the coaches, it filters down to the players. They have to understand that, and so far in every meeting we've had the feedback to me has been really strong and positive."
Nagy's message to Bears players has been the same since he conducted his first team meeting April 3.
"I want them to know that we want to win now," Nagy said. "So you've got to understand what it takes to get there. You can't just say you're going to do it. This isn't just something we want to just spray paint on and cover up for a little bit. We're building this thing. So let's understand that and the work that's involved."
For Nagy and the Bears, it's all in the details.